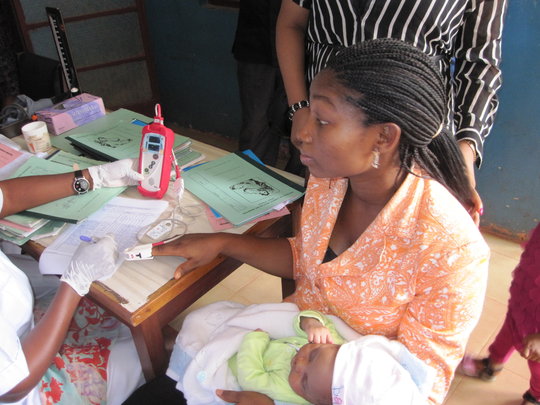 We continue to screen vulnerable women and children for anemia in southeast Nigeria. Anemia is a condition in which not enough healthy red blood cells carry oxygen throughout the body. The poor blood oxygen levels and blood vessel blockages that result lead to chronic, agonizing pain, severe infections, organ failure and potential death.
Nigeria has the world's largest anemia-afflicted population - 75% of its children have the condition, and 1 out of every 5 maternal deaths can be traced to anemia.
Testing for anemia is often not performed in Africa because it traditionally has required invasive blood draws and laboratory analysis, which are often not available, or too expensive. This program of non-invasive testing can therefore have a significantly positive impact maternal and child health outcomes.
Through the Clinton Global Initiative, we partner with the medical technology company Masimo Inc. to screen and treat women and children in Nigeria for anemia quickly and painlessly.
From January 2015 – May 2015, we screened over 2600 women and children. Since we are the only group in Nigeria using Masimo's advanced, noninvasive technology, it is almost certain that none of these vulnerable Nigerians would have been tested for anemia but for this special program.
We look forward to continuing fighting this dangerous scrouge in Nigeria throughout the year.
Additionally, in July we donated special reading materials to a primary school in Enugu, Nigeria.
Links: