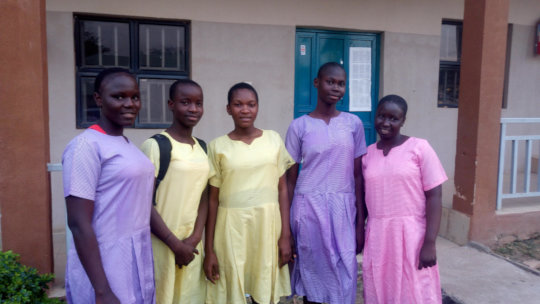 2017 Rise & Walk Medical Mission
From November 10 - 18, 2017, a team of 21 surgeons, nurses and other medical professionals conducted a medical mission to Anambra State in southeast Nigeria. We performed 34 hip and knee replacements during 5 days of surgery. We also donated critical supplies and equipment and trained local surgeons, nurses and medial staff.
Our Clinton Global Initiative Anemia Program

Our screening of vulnerable women and children for anemia in southeast Nigeria continues on. Anemia is a condition in which not enough healthy red blood cells carry oxygen throughout the body. The poor blood oxygen levels and blood vessel blockages that result lead to chronic, agonizing pain, severe infections, organ failure and potential death.

Nigeria has the world's largest anemia-afflicted population - 75% of its children have the condition, and 1 out of every 5 maternal deaths can be traced to anemia.

Testing for anemia is often not performed in Africa because it traditionally has required invasive blood draws and laboratory analysis, which are often not available, or too expensive. This program of non-invasive testing can therefore have a significantly positive impact maternal and child health outcomes.

Through the Clinton Global Initiative, we partner with the medical technology company Masimo Inc. to screen and treat women and children in Nigeria for anemia quickly and painlessly.

We have screened over 11,500 women and children in Nigeria. Since we are the only group in Nigeria using Masimo's advanced, noninvasive technology, it is almost certain that none of these vulnerable Nigerians would have been tested for anemia but for this special program.
Since January 2016, we have covered the costs of anemia treatment for up to 60 poor and vulnerable pregnant women and young children in Nigeria each month.
In February 2017, we also donated thousands of safe delivery maternal kits to the First Lady of Anambra State.

Our Education Program
On November 16, 2017, we officially opened the "Arinze Ejiofor - Godwin Onyema" Sports Field at Brightland Academy in Enugu, Nigeria. This state-of-the-art field is one of the best in the country, and the school held a special ceremony as GEANCO officers Godwin and Afam Onyema formall inaugrated the field.
In January 2017, the pharmaceutical giant Pfizer donated 20 laptops to us, which we in turn gifted to clinics and libraries throughout southeast Nigeria.
We have also selected girls as our first David Oyelowo Leadership (DOL) Scholars. We cover tuition, room, board, books and supplies for these girls who have been directly impacted by Boko Haram.
Our scholars attend the Anglican Girls Grammar School (AGGS) in Abuja, Nigeria's capital. A secondary school for students aged 10 - 15, AGGS is an academic Center of Excellence known for its strong emphasis on science and math. For girls dealing with instability and insecurity, this all-girls boarding school offers a safe and nurturing learning environment. "Our girls" have had a wonderful experience since they began school in September. They enjoy being back in a safe, supportive learning environment with fellow female students and with teachers and administrators who care deeply for them.
Our second class of DOL Scholars began school in September 2017. These girls haved joined the first class of three girls at AGGS.
Special Fundraising Opportunities
Get Exclusive Access to the 2017 Oscars Rehearsal and meet Host Jimmy Kimmel

You and a friend can win the chance to be the only official outside guests at the uber-exclusive OSCARS® Rehearsal the night before the big show!

Meet host Jimmy Kimmel, tour the red carpet, party in the backstage green room, mess around with the envelopes, enjoy a delicious catered dinner on-site,and score some official OSCARS swag. Campaign ends on February 23. www.omaze.com/oscars
Have Tea with Benedict Cumberbatch and Attend the Avengers: Infinity War Premiere
Spend some quality time with Benedict Cumberbatch (Doctor Strange, Sherlock, The Imitation Game) drinking tea and taking selfies. Go to the Avengers: Infinity War premiere and be among the first to see the long-awaited film. Get flown out to Los Angeles and put up in a 4-star hotel. Campaign ends April 6. www.omaze.com/benedict