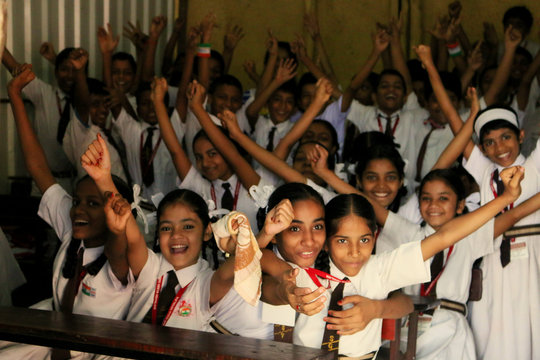 "You make the world a better place, by making yourself a better person."
This line has stayed with us over the years of our work and we try everyday to teach this to all the children we work with.
The last 2 months have been very exciting at Toybank! Scores of activities and Power of Play workshops for both the teachers as well as children have been rolling out across our Urban as well as Rural projects.
Toybank also celebrated an epic Independence Day with 900 kids at a Government school in Govandi, Mumbai on August 15th, 2015. This was Toybank's 11th Birthday and a 100 Toybankers from all across the city joined this celebration. What made this so special was that everyone who was present on this early morning of this fun day, well... Every one of them was a 'MAGICIAN'! They just did their job... of spreading magic all around. :-)
It was a riot of an event with over 100 volunteers ensuring the kids had a super memorable day!
Here are some testimonials from the volunteers at the celebration:
"A perfect way to celebrate Independence Day. Giving children their freedom to play with toys and games. It has been an amazing experience spending time with the kids and interacting with them. I would like to thank Toybank to come up with such a wonderful idea and taking one step ahead to be the change people want to see. A day well spent at Toybank. :) Thank you." – Nandita Sulay
"69th Independence Day of India! - this was itself a wonderful feeling to start my day, and the visit to Shree Geeta Vidyalaya with Edelgive Foundation in association with Toybank was just like flower blooming in the garden! As I entered the school, I felt a lump in my throat as India's national anthem being sung by these little angels. When I walked into the classroom, I felt my childhood around me. Those children with their innocent thoughts made me believe in their dreams. I was walking in the present but I realized that these 1000 odd kids are looking forward to make their future bright by choosing the role to serve our society." -Rutu Charan
Here is a Case story of one of our kids from our Partners:
Sandeep, a 10 year old boy studies at our partnering Government school in the suburbs of Mumbai. He hails from a very low economic background and stays with his family in one of the suburb slums.
At the Toybank play sessions, we always observed that Sandeep use to love playing with the board games provided in that center but somehow always ignored the numerical games!
Our team thought of interacting with his teacher to understand how he copes up with his academics. We investigated further to check his Math grades. His teacher mentioned that Sandeep was very good at academics but somehow was very weak in Math. He not only hated the subject but had developed a massive fear against Math.
We thought about how we could resolve this problem for Sandeep and his teacher. And thus began our slow and steady intervention of playing all possible games that involved counting and arithmetic Numerical board games. We quietly got him to add, subtract and multiply through the play methods involved in those specific board games!
After 2 months of playing with these numerical board games we slowly managed to remove his fear of Math. We made it fun for him instead! It helped him to build up his confidence and see any Math question as a challenge. Slowly, this also helped in increasing his interest in this subject.
Finally, it was a success story for both, Sandeep as well as our team when we heard his teacher saying that in his last Math exam, Sandeep had scored top marks in this grade.
It takes something as small and simple as a board game to get a child's attention out from the troubles that it is in; they are naturally attentive towards play and games.
Over the last 2 months, Toybank has reached out to 2607 children from 33 centers in Urban and Rural areas of Maharashtra.
We grateful to all of you for driving our work & supporting it like you always have.
Happy Toybanking! :-)