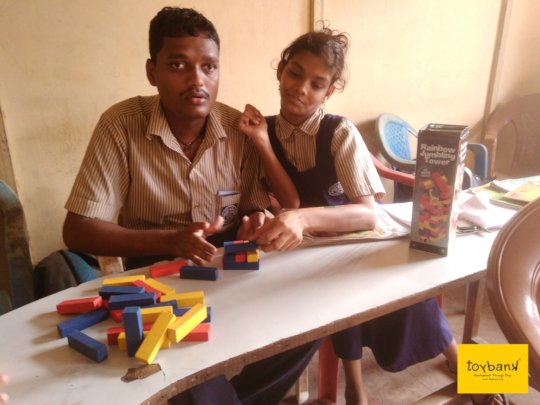 An American Academy of Pediatrics' clinical report, published in August 2018, quotes from Robert McElvaine's, The Great Depression: "The most powerful way children learn isn't only in classrooms or libraries but on playgrounds and in playrooms."
'Play' is essential for the development of social, emotional, language, and cognitive skills—and play is threatened by academic expectations, mobility limitations, and screens. Today's academic and social atmosphere is filled with academic expectations, mobility limitations, and digital screens. This restricts exploration and wholesome learning. 'Play' is vital in breaking out of these monotonous mundane lifestyles and help develop social, emotional, language, and cognitive skills, which in turn buildwell-roundedd children.
Outreach in September, October and November 2018:
The months of September, October and November witnessed a massive boost in advocating and propagating the Power of Play.
369 Toybank Play Sessions have been conducted in the last 3 months impacting 9344 children in urban and rural regions of Maharashtra.
4 Special Play Sessions were conducted which impacted 209 children. 2 Football Sessions were conducted for 49 children. 1 session was conducted by Dale Carnegie's team that addressed the importance of effective communication and soft skills to 60 of our children.
1 Special Session was held on Children's Day, where 100 children. The day was filled with activities and games for these children.
177 Teachers have been trained through 7 Teacher Trainings to inculcate Play in the overall development of children. The teachers were sensitized about the Power of Play through interactive sessions about free play activities and Board Games.
Replacement of games and play material was done in 50 Urban and 8 Rural Toybank Play centers to restore the stock with new and innovative toys and games.
Toybank conducted 8 PLAY Impact Awareness Campaigns for 554 individuals from different backgrounds.
Volunteer Action Events:
A multinational corporate organizes an annual event 'Impact Day' in the month of November. Every year they partner with Toybank to conduct Play Sessions at the Toybank Play Centers. This event is a huge opportunity for Toybank to distribute games to a large number of children in a day. 7 Play Sessions were conducted by 112 employees in 5 Toybank Play centers. 308 children experienced a magical day through this!
Kerala Flood Relief work:
Toybank along with the support from Mazagon Dock Shipbuilders, initiated a large scale effort to collect, pack and deliver toys to flood affected Anganwadis of Kerala in August 2018. HealthSpring, a health care provider helped us in setting up collection booths at their centers spread across Mumbai, where donors could have easy access to donate the toys.
15 collection boxes garnered game donations from caring citizens across Mumbai! Toybank also purchased over 600 brand new games which provide intellectual stimulation along with fun.
Awards and Recognitions:
We are also thrilled to announce that Toybank has been honored with the Spirit of Humanity Awards in the Child Care Category making us the National Winners 2018. It was a grand moment for the whole team! We are truly proud of supporters like you, who help us make a meaningful impact in the lives of so many children.
Moment of Change:
Amey (name changed), a child at our play center in Mankhurd has mild cerebral palsy, which is a physical condition that affects muscle movement and coordination. When he plays, he refuses to use his left hand because he assumes it doesn't function at all. Although, his left hand simply functions and is less stronger than his right hand.
During one of the play sessions, Amey was playing Jumping Monkey with another kid. The game involves a tree, a catapult, a couple of monkeys and bananas. Usage of both hands are required to play - one to hold the catapult in place and the other to flip the monkey onto the tree. Whoever manages to get all four monkeys on the tree gets the bananas.
Amey wasn't using his left hand and struggled to play the game. He saw the other player getting the monkeys on the tree with ease using both hands. After observing for a while, he brought his left hand ahead but was hesitant to use it. We encouraged him a bit to use it to at least hold the catapult's base. He tried it out and successfully managed to get his monkeys on the tree. Only until he was encouraged to try it out did he realize that the left hand did function.
These small achievements mean the world to differently-abled children. Disability is a state of mind. Play enabled him to recognize his abilities. At Toybank, we recognize inclusivity and opportunity in play. We encourage kids to try different games and figure out what they are best able to achieve.