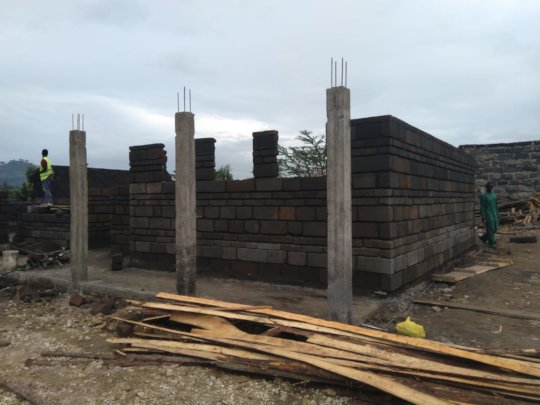 We are unbelievably close to reaching a goal that was just a dream a few weeks ago!!!
With just less than 21.360 US$ and the constructions will be fully funded.

Through very generous donations through GlobalGiving and direct European donations, we were able to begin the construction of our kindergarten - which is growing as you read these words. The admin. / library / medical-dental clinic construction will begin soon.
Help us to help make the poorest of the poor to the best educated of all!!! We are all making the difference between lives in the wicked wheel of poverty - and the glorious freedom of choice for children who would never be able to make choices without a solid basis of health, education, and welfare!!!
Your donations - large or small - are so very appreciated.
Asante Sana - and a blessed holiday season filled with love, light, friends, and family!
Links:
The excitement was almost tangible! All of the Live and Learn in Kenya International children were present along with parents, guardians, staff, regional elders press, TV and of course a group of 19 guests from the US, Germany and the Netherlands. It was one of the largest and most festive celebrations ever seen at the Live and Learn in Kenya Education Center in Nakuru, Kenya. The beautiful and outstandingly-built dining hall was finally no longer a dream - but a dream come true - and a dream of a building. It was a wonderful feeling to enjoy all of the happiness, singing, and dancing - but that was nothing compared to the wonderful experience of watching the hundreds of children enjoying a warm and nutritious meal there.
It is only with your continued support that we were able to finish building the dining hall - but most importantly - feed the 480 children every day - six days a week - either at our own school or at our partner schools. But all of the Live and Learn in Kenya Kids can get together on Saturdays and 5 days a week during the school breaks to enjoy warm meals at our own dining tables.
We can only say ASANTE SANA - thank you so much - and please continue to make sure those plates are filled!
Links: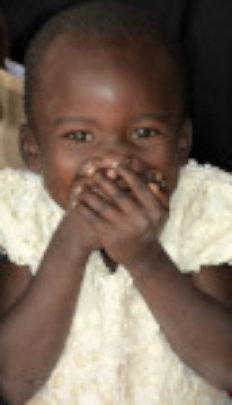 Being a child is supposed to be the same all over the world - playing, singing, dancing - and having a roof over their head and meals on the table and loving hand to guide them. But is it really like that everywhere? We can't help everyone - but we are doing our best to help as many children as possible to be all that they can be - and have fun doing it!
After several years of experiencing how well the children, even those who were very poor pupils in other schools, began to blossom and shine, we began taking very small children on to the Live and Learn in Kenya International project. These little 3-year-olds spend their days being pampered and played with - learn how to be part of a community by being a part of a group of other children their age and by playing and singing in both Swahili and English - they learn so much in the way that children are supposed to - through play!
Taking the children on at a very young age means giving them all that they need from Nursery School Class on - right up to College! These children will excel instead of landing up living in the streets.
Now that our school has 8 classrooms and as of January 2020, 7 grades plus Nursery School Class, Kindergarten Class, and a Preschool Class - that leaves us having two classrooms too few!!! We are now forced to put up a makeshift construction for the youngest until we are able to build the classrooms that are necessary.

So, now it's "back to the drawing board". We need to get a real roof over the little one's heads (and 4 walls around them) and give them a chance to be all that they can be.
We appreciate any support at all!
Asante sana!
Links:
WARNING: Javascript is currently disabled or is not available in your browser. GlobalGiving makes extensive use of Javascript and will not function properly with Javascript disabled.
Please enable Javascript
and refresh this page.