We know how difficult it is to raise funds at this time of year when people are getting ready for the lovliest time of the year - vacation - and are closely contemplating their financial situation.
With this in mind - we are especially thankful to the donors who decide to share to make this wonderful dream come true. Our present "dining hall" is everything but hygienic. The dry and dusty Nakuru days make it impossible to keep clean and the wind blows dust and fine sand on the children's plates. The wet and very rainy Nakuru days leave the room wet and flooded and the furnitute rotting. Not a lovely sight to see or a place to feel safe and protected.
Besides the less than positive situation in the makeshift dining hall, a major problem is getting the food from the kitchen - which is about 100 meters away. This means that the mamas who have been cooking all morning must then carry the very heavy cooking pots over to the dining hall - no matter what the weather is - rainy or windy and dusty... The children also have to stand outside waiting in line for their meal - no matter how the weather is.
The difference that the dining hall will make is indescribable. The meals will be cooked in our modern kitchen and slid over the counter through a window to the waiting child in the dining hall. All of the children will be able to eat together so that the meals will be nice and warm and fresh. Nobody will need to weather the weather - whatever the weather...

In addition to being a dining hall - it will also be an auditorium where the children can meet for extra-curricular activities, pledge of allegiance on rainy days, workshops and parents' meeting.

We are hoping to be able to open the doors of the new dining hall when the new school year begins in January 2019.
We need all of the help we can get.
Asante sana - thank you so much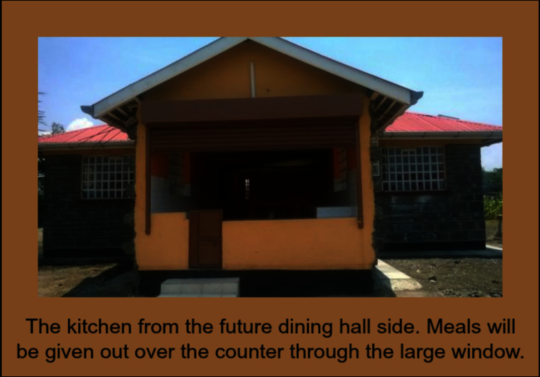 Links: