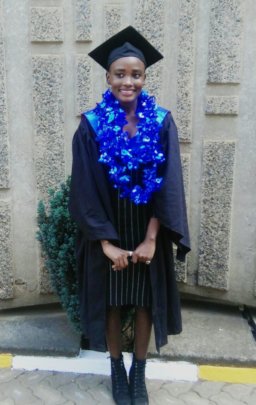 The year goes by and a new year is in sight. What have you done that really made a difference this year? Well, the Live and Learn in Kenya Kids and their parents know and appreciate what you have done to change their lives. It is amazing what a difference a donation can make in a person's life. A child who had little hope for a bright future can go to school - and even graduate from university because of a donation. A sick child who may have just withered and died from a curable disease can be hospitalized and cured - a life saved. A foster family is found for a young orphan who thought that he or she would be living out in the streets for the rest of their lives. Caring changes perspectives - changes lives.
Holiness, who would never have been able to attend school at all - not only attended high school - she graduated from university with flying colors last week!
We want to say thank you in this special way. The Live and Learn in Kenya International children and their parents or guardians have opened up their hearts to show their appreciation to you.
The children each received a large, warm blanket for the cold Nakuru nights and their families received all of the ingredients for a festive holiday meals - including a live chicken, vegetables, flour, oil for cooking. They left the Live and Learn in Kenya Education Center singing and dancing and celebrating - their meals - their lives - and YOU.
Please click on the link below and have a look at the little video prepared for your enjoyment.
Asante sana - Thank you so much.
Happy holidays - Peace on Earth - Good will to us all!
Links:
...and it goes on and on..watching the schoolhouse grow
We began the construciton of the 7th classroom last weekend and it is already taking shape. It is always amazing to see the process and the progress of another classroom being constructed at the Live and Learn in Kenya Education Center in Nakuru, Kenya. What could be done in a fraction of the time and energy with heavy-duty equipment, is all done - practically by hand. Under the critical eyes of our project manager, Ken, and the constructor, the hard-working men dig and dig and schlepp and schlepp away the excess dirt with their shovels and wheelbarrows until the shape of the new classroom and office are formed.
This construction phase consists of a classroom and an office as it must be built around the corner with one roof. The next construction phase will be the same from the other side with the teachers' room and principal's office - joining the two offices together so that a lovely court for morning assemblies will be found in the middle.
We have come a long way - but we still have a long way to go - but with your help we can go further much faster so that these children will one day have classrooms with an atmosphere that makes learning fun and interesting and teaching less of a job than an enjoyable way to make a difference in children's lives.
We are hoping to have the classroom and office finished by the end of February. With your support, perhaps even sooner so that the preschool children can move out of the make-shift sheetmetal roofed, wooden shack classroom into a real, comfortable and friendly classroom. Hand in Hand we'll make it happen!
Happy Holidays and a healthy, happy and successful 2018 from all of us at Live and Learn in Kenya International.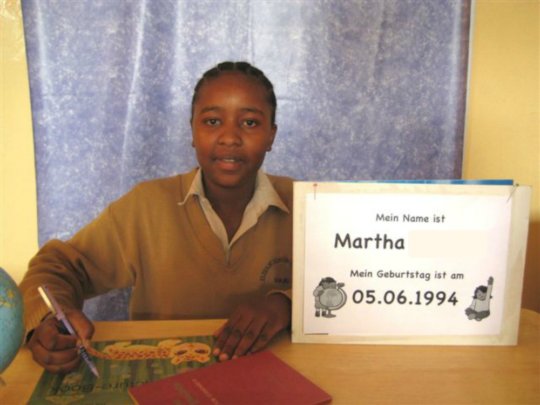 Martha was a scared young girl living in the deepest slums of Nakuru, Kenya with her single mother and two brothers when I met her on an October day in 2007. She had been accepted onto the Live and Learn in Kenya Int'l program a half a year before. She was shy, but hard-working and very focused. During my annual visits I watched Martha bloom into a lovely young woman, brilliantly passing her exams and joining high school and then going on to college. It was a proud day for Martha when she received her college diploma as a full-fledged elementary school teacher. But not only Martha had reason to be proud. Her teachers, the Live and Learn in Kenya Int'l staff and - last but not least - her sponsors - were thrilled that Martha was one of the first Live and Learn in Kenya Kids to graduate from college and have a professional life laid out before her.
She has been teaching at the Live and Learn in Kenya Elementary School for nearly two years now. She could, most likely, find a job placement at a school where she would be earning more money - but Martha knows why she is staying right where she is. She was given the chance to be all that she could be - and now she has come back to her roots to teach and guide the children who are now in the same position that she was all those years ago. The children look up to her as a mentor - as 'one of them' who worked hard to reach her goal. They want to be like Martha - a success story!
Your donation to the Live and Learn in Kenya Int'l Sponsorship Program is not "just a drop in the bucket" It's the entire ocean to hundreds of children.
Martha has been given the chance to tell a bit of her story in the attached short video.
Asante sana - thank you so much for your interest!
Brief remark: GlobalGiving's Mikey can be seen in the video during his visit to the Live and Learn in Kenya Education Center in April 2007.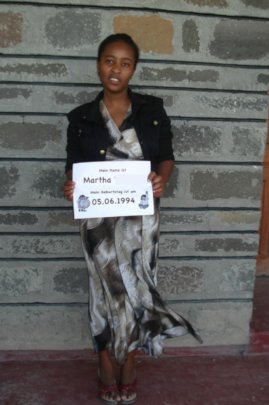 Links:
WARNING: Javascript is currently disabled or is not available in your browser. GlobalGiving makes extensive use of Javascript and will not function properly with Javascript disabled.
Please enable Javascript
and refresh this page.