Greetings to the Global Giving community!
We've been hearing recently from Planetary Society members and donors who have heard varying information about the first commercial flight the Space X Falcon Heavy rocket, and whether or not our LightSail spacecraft will be aboard.
The upcoming launch of the Falcon Heavy scheduled on April 7 is not the flight of our LightSail spacecraft. At one time we were slated to be part of the "first commercial flight" of the Falcon Heavy, but as part of the Air Force's STP-2 mission, we've been moved to the second Falcon Heavy commercial flight.
At present, our STP-2 launch is scheduled "no earlier than" the first week of June. However, we don't expect that date to be met due to the likelihood of further delays in the scheduled launch of a communications satellite called Arabsat. As soon as we see the successful launch of Arabsat, including the recovery of all three rocket cores, we can begin to look at realistic launch date scenarios. At present, that might mean June but for a number of reasons, we are guessing that it will be more like July at the earliest.
In the meantime, we do have preliminary plans developed for the launch experience that will encompass a variety of experience packages, but we cannot finalize them until we get a firm date (the hotels and conference venues we will be using all need firm dates for contracts). We will share all of that information widely with all of our members and Kickstarter backers once we can finalize the plans.
After four long years of waiting, we are cautiously optimistic that we will launch in just a few months' time. Our spacecraft is good and ready! Sincere thanks to all of you who have supported our LightSail project – this truly IS citizen-funded flight by light, and together we are helping to change the world!
Links: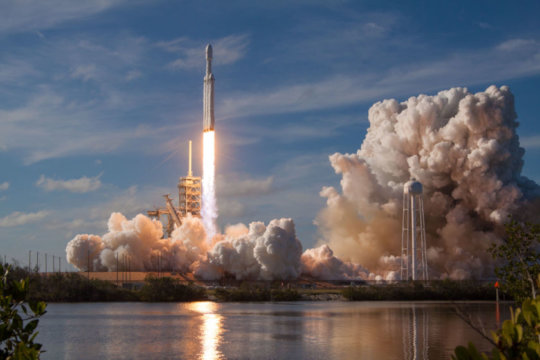 The loaf-of-bread-sized satellite, which will unfurl a 32-square-meter solar sail to harness sunlight for propulsion, was previously scheduled to hitch a ride to orbit aboard a SpaceX Falcon Heavy rocket no earlier than Nov. 30. An Air Force official now tells The Planetary Society a new "initial launch capability" is being assessed and is expected to fall in early 2019.
LightSail 2 is one of 25 spacecraft aboard a Falcon Heavy rideshare mission called STP-2 — the 'STP' stands for the Air Force's Space Test Program. The primary payloads are six weather and climate satellites called COSMIC-2 and a space radiation experiment named DSX. The Falcon Heavy's upper stage engine will re-light multiple times to deliver all 25 spacecraft into three different orbits.
Once in space, LightSail 2 will attempt to demonstrate solar sailing as a method of propulsion for small, standardized satellites known as CubeSats. The spacecraft will do this by turning its reflective solar sail against the sun's rays each orbit. Solar photons have no mass, but they have momentum, and will give LightSail 2 a gentle push as they bounce off the sail.
The push is no stronger than the weight of a paperclip, but it is continuous and will raise the spacecraft's orbit by up to several hundred meters each day.
LightSail 2 was installed in Prox-1 back in March at the Air Force Research Laboratory in Albuquerque, New Mexico. The vehicles underwent vibration testing in August, but a post-test inspection showed LightSail's batteries had drained more than was desired. Because of uncertainties in the launch date, engineers opted not to re-integrate LightSail in Prox-1 so LightSail's batteries could be periodically charged.
As a result of the latest mission delay, mission managers opted to fly LightSail 2 back to Cal Poly San Luis Obispo, where it can be accessed more easily. The spacecraft's batteries will continue to get topped off between now and launch.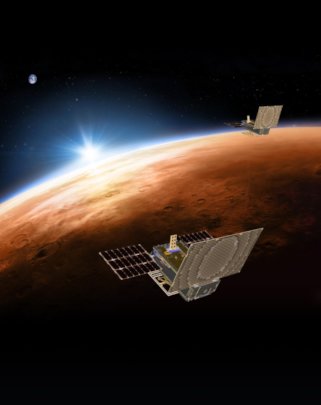 In deep space, about 70 million kilometers from Earth as of late September, two tiny CubeSats called MarCO A and B are hurtling toward Mars. They launched in May on the same rocket as NASA's InSight lander, and now flank the spacecraft by a couple thousand kilometers each.
The MarCO project — formally, Mars Cube One — is a technology demonstration to see whether you can trust small satellites with big planetary exploration jobs. The two spacecraft cost $18.5 million, just a fraction of InSight's price tag, which is now $829 million after a two-year project delay.
CubeSats come in standardized sizes, the smallest of which is a 10-centimeter-per-side box weighing just a few kilograms. Thus far, they have been limited to Earth orbit; MarCO A and B are the first deep space CubeSats. It's an impressive accomplishment for a concept many people regarded with derision when it debuted 15 years ago.
WARNING: Javascript is currently disabled or is not available in your browser. GlobalGiving makes extensive use of Javascript and will not function properly with Javascript disabled.
Please enable Javascript
and refresh this page.