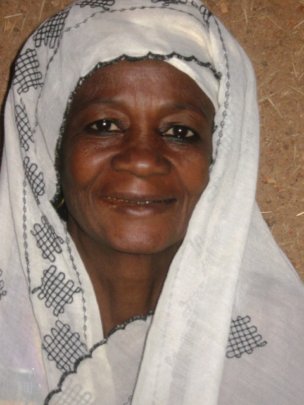 The literacy rate for nomadic people in Niger is less than 15%, and is even lower for girls. Girls especially face cultural and financial obstacles to staying in primary school - 1 in 5 will marry before their 15th birthday. Those who do attend often drop out after only three years. RAIN's mentoring program offers solutions to these obstacles. We looked at the long standing nomadic tradition of women educating their children, RAIN than recruit's local women as mentors. This encourages at-risk girls to succeed in school and advocating with their families and teachers. Walking miles to meet with their students, mentors counsel in life choices and teach valuable practical skills, committed to providing the new generation of girls the opportunities they never had. Over the years, mentored girls have consistently succeeded in greater numbers than their peers, and several communities are seeing girl's graduate primary school for the first time.
Let us meet a mentor. Hadiza is a 44 year old woman with 8 children. When asked why she decided to join RAIN's program she stated:
Hadiza: "I agreed to do this work to contribute to the progress of our village. If the children are not educated, their future is in jeopardy, and so parents like myself wish to take action. I feel it is my duty to help the children succeed in school."
RAIN: "Since you have become a mentor, what changes, if any, have you noticed in your life?"
Hadiza: "Everyone agrees that there have been many changes in our lives since we became mentors. The parents of the students respect us. The teachers regard us as colleagues. Even the village authorities increasingly engage us in community meetings, especially in matters regarding the school. We are regularly trained by RAIN on important topics. All these aspects open us more each day to a new spirit of action. Additionally, the benefits RAIN offers to mentors have helped me to manage problems and support my family."
RAIN: "Are there any conflicts that arise between you and the parents of the students?"
Hadiza: "I've been fortunate so far that there have been no conflicts between me and the families of my students. If I notice that there is something that is not working well with the child, I consult the parents, and we discuss until we reach an understanding; then we plan the approach to the problem together."
Hadiza continues on to speak of her commitment to the community and especially the children. She mentions that the mentors are all striving toward the elimination of illiteracy. Not only will that help the students, but the mentors as well.