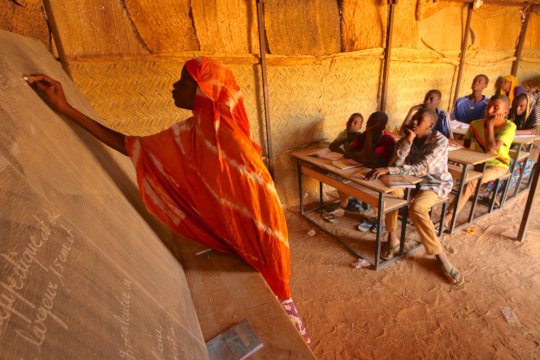 Farida is in 9th grade (4ieme) and is a 16-year-old Tuareg girl from the village of Elmiki, West of Aouderas at the foothills of the Air Mountains. She is a great student, calm, reflective and likes to help the younger girls in her dorm room. Unfortunately, she lost her mother last year, leaving a 2-month-old infant behind. This was a very traumatic experience for her and now her own health issues are becoming fairly serious. After experiencing pain and inflammation in her knee, doctors discovered that she has a bone spur at her knee joint that is progressing and causing her significant discomfort, requiring surgery. Without the surgery, she will not be able to walk in the future. Ironically, during Farida's first year at the center, she told us that she wanted to become a doctor to help people. Following her mother's illness that led to her death, and her current medical issues, the desperate need for access to health care is a shocking reality. We need your support to provide health care services for our Agadez Learning Center. Farida is an example of why this cause is a worthy one. Our students receive a lot of support from the Center, but we need your help to continue to render these services for the cases like Farida. Your support could mean the difference between a child losing the ability to walk, see, hear. We will continue to support these students no matter what.
"My name is Farida, I come from the village of Elmiki where I attended primary school. I am 16 years old and primary school I was admitted to the CEG which my dad heard about at the ALC Center. He was the one who had taken steps to have me admitted to the ALC Center, and it was thanks to the Director of the Center, Mr. Alhassan, that we had a rewarding and convincing interview to accept at the Center. This year, I am in the 9th-grade class attending the Mai Manga OUMARA Secondary Education Complex. Even before being admitted into the 7th grade, I traveled several times to Agadez, to visit sometimes our parents in Agadez, and also those who went into exodus due to insecurity and rebellion in northern Niger. When I arrived at college I immediately noticed that there are more students in my Primary School in Elmiki. Just in the last month of my second year, I lost my mother. This was quite terrible for months because she left us a little sister born just forty days ago. I will never forget the pain I felt all my life. We feel safe at the center.
The Center provides capacity-building courses that we like because we understand better the explanations here and they are less demanding than the courses offered in class at the Center, unlike the college. We felt better than other schoolmates do not have this opportunity. I am so happy to be among the ALC Center students because I met some of them. Students and I became friends with the Fulani and Tuareg. The hardest moments were when I learned that my mother was very sick. The Center granted me a leave of absence. When I arrived in the
village I found my mother lying down and very sick, and I had tears in my eyes. With all the care she received, her health was not improving because she was always affected by the disease. A few days later, in the morning, I noticed people coming in the group to our home; my mother's sisters were crying, and I did not understand what was going on. It only later on that I learned that my mother passed away. I cried a lot because she left my very small sisters, and that was last year in February 2017." - Farida.
Farida needs your help as do so many other children. Their need is urgent and time is precious. Please support students like Farida, so that they may continue their dreams. Donate Today and help these children get back to better health.