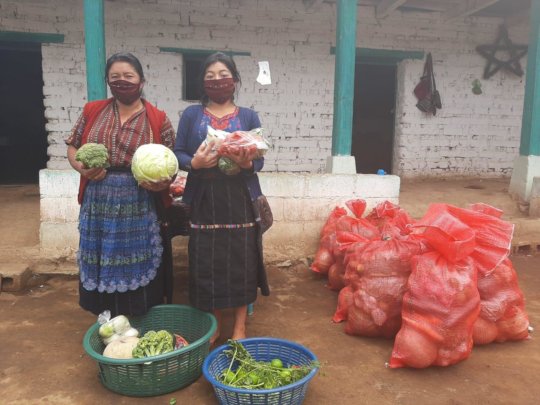 MAIA is working on responding to the immediate needs of both the Girl Pioneers and their families in the new context of the COVID-19 pandemic, as well as adapting our regular programming to continue to educate and empower girls in rural Guatemala. MAIA's response to COVID-19 has been highlighted by IDEO and Prensa Libre. Here are some of the ways that MAIA is pivoting during this crisis:
1. Maintain academic momentum for Girl Pioneers: In times of crisis, girls are at risk of having to quit school. This is why MAIA continues to put girls' education first. MAIA has provided Girl Pioneers with take-home study kits with scheduled phone check-ins with educators and mentors to ensure students continue to work towards their academic and socioemotional goals. Technology is a crucial component of remote learning. Currently, the 10th-grade class has tablets with access to online resources and virtual sessions with their educators. We plan to expand the use of tablets with internet access to other grade levels in the coming months. Please see this video of some of the Girl Pioneers sharing their experience of studying remotely.
2. Educator Training/Professional Development: MAIA has been training and coaching our educators in how to shift to online instruction and remote learning and is now focusing on how to assess the learning of Girl Pioneers remotely. In addition, as part of MAIA's work with a district of five NGO schools, MAIA is working to support educators to prepare for when in-person classes resume. Time is going to be a huge challenge for all educators, and they will need to be as effective as possible with the little time they have to help students catch up academically. Starting in June, the District schools will participate in a series of trainings to equip educators with the pedagogical skills and tools on time management and engaging teaching techniques to maximize student learning in the classroom.
2. Disseminate information into communities: When Maya communities receive reliable information on the coronavirus in their own languages that take into account their unique rural context, they can take realistic steps against the propagation of this disease and put less strain on an already fragile medical system. MAIA's informational videos related to Coronavirus in Kaqchikel, K'iche, and Tz'utujil have already reached over 100,000 people, and our model is being replicated by organizations in other parts of Guatemala with teams who speak different Maya languages. Thanks to the generous support from Partners Asia and Move92, MAIA is part of a formal partnership now called The Colectivo. Together, this network is taking an active role in creating contextualized information in Maya languages for indigenous communities. MAIA and the Colectivo are now widening their reach through the use of radio platforms to address COVID's potential consequences on each of the network's thematic areas, including one of the top online media outlets in the country, Guatemala.com.
3. Create the first-line filter to help communities correctly diagnose the virus:
Nurses and nursing students who are graduates of MAIA's legacy program and are now Quetzal University Fund scholars are providing Maya language support for the national hotline for COVID-19 and serving as health information resources for all of MAIA's families.
4. Sharing the realities of rural Guatemala with the world: Girl Pioneers are piloting a program to become spokeswomen for their communities by reporting on the realities of living in a rural community amidst a global pandemic, bringing visibility with a gender-focused lens to indigenous girls and their voices. Girl Pioneers have created short video clips on social media and a podcast where they use their empowered voices to share the realities of how this pandemic is affecting them, their families, and their communities. In May, Girl Pioneers interviewed the Director of Education of the Department of Sololá and asked some powerful questions about how the Guatemala Ministry of Education is responding during the pandemic.
5. Food Security: Economic pressure on indigenous families to pull their daughters out of school is now more intense than ever. Food scarcity has become a real issue in rural areas as prices fluctuate wildly and movement is increasingly restricted. MAIA is proactively engaging with parents during this crisis to address their immediate needs by providing emergency food baskets while also piloting a family garden program to train families to address food security and nutrition, to create a sustainable plan beyond the COVID-19 crisis. Girl Pioneers are also putting their leadership skills into practice by facilitating broader efforts in partnership with other organizations to distribute food to the most vulnerable families in their communities.
The COVID crisis has revealed unique opportunities to reimagine what education for indigenous girls in Guatemala can look like moving forward, defying the notion that Maya girls in poverty are "the problem" and instead casting them as "the solution." Now is a crucial time for Girl Pioneers to exercise their resilience and leadership to lead the pathway forward.
Links: