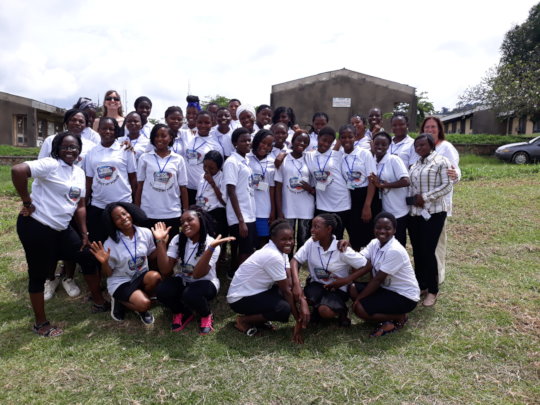 The vision of Imagine initiative brought to Nigeria 9 years ago is to develop the agency of the disenfranchised women in the developing countries so that they can create their lives the way they want it and then they will have these:
· Improvement on their lives
· Improvement on their health
· Improvement on their Finances
· Improvement on their self-responsibility
· Improved self esteem
· Better view of life
This was what we set out to achieve and this was what informed many of our population. In the last 9 years that we have been doing this work, we have been targeting the population that have been in compromised and challenging situations and the result that we have been seen in their lives have been the driving force to continue the work.
In 2018, WIDC worked with 550 village women with zero source of income and victims of wife battering. At the end of the year, 90% (495) are no more having violence in their homes and a solid source of income ranges from Cash crop farms, food crop farms, Vocation like Photograph, Tailoring and Bead making and then small scale business and petty trading.
The remaining 10% (55) are also on the way to perfect their small business and the violence they are facing in their homes. When we first went to these villages we were the ones taking food and clothing to them but when we visited them after 12 Month, they were the ones that filled the booth of our car with food crops and fruits so much that we had to leave some of the food behind when our booth could no longer carry more.
5 of the village women we worked with have also been appointed as part of their village council due to the sporadic change that has happened in their lives.
These are women that when we got to their villages were jobless and not sure of where their daily meal were coming from. When we talked to them about this workshop they were not aware that the workshop was going to change their lives the way it did, they attended the workshop because their village heads convinced them that at least for 4 days they will be sure of having lunch.
These same women when went back to see them 12 months later welcomed us with singing and dancing and filled our car booth to the brim of food stuff when we were living them.
Where we are now
Where we are now which is my own excitement as the program Manager of this Initiative in Nigeria about the work is that we are recording great success in reducing Gender Based Violence and poverty in our country which has woman's face.
Impact:
· Trained: 4,726 people
· Direct impact: 93,150 people
· Indirect impact: 931,500 people
2. Focus:
· Gender Based ViolenceÂ
· Economic Development
· People with Disability
· Community Based organizations
3. Places covered:
States: 4 out of 36
· Osun
· Lagos
· Rivers
· Aka-Ibom
4. Partners: 5
· VGIF (Virginia Gildersleeve International Fund)
· AWDF (African Women Development Fund
· Global Giving Foundation
· IMAGINE Initiative, USA
· World Pulse
5. Funding:
· Crowd funding
· Grants
· Individual sponsorship
· Economic Empowerment programs
6. Country Team Capacity:
· Geographical distribution: 4 states
· Imagine Master Trainer Certification Program (IMTCP) Leadership: Four Empowerment Workshop Certified Trainers
· IMTCP training. 1 certified Trainer of Trainers
· Apprenticeship Capacity: 8 apprentices from 5 NGOs
· Founder/CEO and Board leadership
· Staff: 6
· Volunteers: 15
Where we want to be (Our Vision for the work)
Empowerment Institutes: Established in major cities across Nigeria for implementing the IMTCP so that trainers of Imagine workshops will be in all the cities.
Partnerships: Partnering with 7 national networks of development organizations (NNNGO, INGO, World Pulse Nigeria, NCWS, NYSC, Religious groups and bilateral organizations) by the year 2020
Geography: All 36 states
Funding: $1,500,000 from multinational CSR programs, Global Giving, AWDF, plus other funding sources that might be open to us. IMAGINE Nigeria's ability to build the capacity of NGOs in women empowerment and upgrade the development capability of the country enables it to receive substantial and sustainable funding from national and international partners.
Talent Development: A visionary, empowered and skillful transformative leadership team with quality staffing to support the scaling of IMAGINE to NGOs nationwide.
Technology and Communication: State of the art technology and communication tools to support the delivery of the Empowerment Workshops, follow-up support groups, and the documentation of results.
Agency: Has reached a tipping point and is diffusing throughout Nigeria on its own momentum.
Policy: Systematic transformation has reached a tipping point and is diffusing throughout Nigeria on its own momentum at the local, regional and national government levels.
Beliefs, behaviour and Cultural Values
NGOs
Team work
Peace and justice
Inclusion
Women Leadership
Mutual respect
COUNTRY
Youth Leadership, Crime Reduction, Thuggery Reduction
Self-responsibility and an empowered culture
Transparency and accountability
Goal oriented
Environmental responsibility and green living
Innovation and creativity
Gender equity
Unity in diversity
Social systems:
· Increased literacy
· Reduced crime
· Reduced Thuggery
· Peaceful co-existence
· Gender equality and equity
· Enhanced leadership
· Green living and environmental stewardship
· Improved standard of living and well being
Development:
· Improved infrastructure
· Accountability and transparency among decision makers
· Patriotism
· Safety and security
· Freedom of expression
· Religious tolerance
Citizens and government relationships:
· Open dialogue
· Trust
· Mutual love and respect
· Peaceful Co-existence
Links: