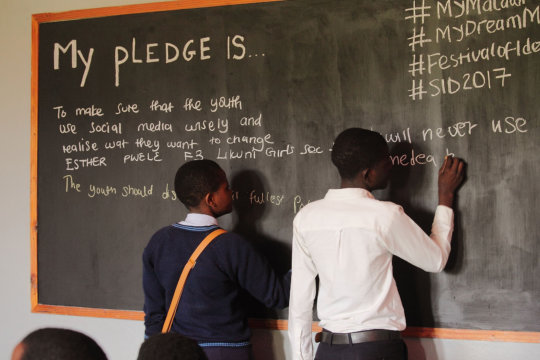 This quarter has been full of celebrations and special occasions for Students with Dreams (SWD)!
In January, the AGHCA collaborated with Lake of Stars and the British Council to host sessions at a Festival of Ideas engaging youth in discussions around civil society and development. We facilitated World Cafe and fishbowl discussions with over 200 secondary school students to brainstorm the role Malawi's youth could play in shaping the country's future. The six strongest ideas were presented on the main stage to the full festival audience of 1,000 attendees. Later in the day, SWD alumni Akulu Lipenga and Mcpherson Ndalama ran an arts workshop in which students could 'Create a Malawian Superhero' and develop a comic strip showcasing the character. Finally, as part of Lilongwe shorts, we screened Umunthu, a documentary made by SWD alum Mwizalero Nyirenda exploring opposing views on LGBTI rights in Malawi.
This January we also welcomed our new SWD Programme Officer, Lekodi Magombo, who recently graduated with a degree in Political Science from the University of Malawi Chancellor College. As a 2015 Dreamer, Lekodi spearheaded the project LoudInk, which provides a platform for secondary school students to find their voices and tackle inequity through creative writing. After serving as a passionate, organized and highly valued Mentor for our 2016 Dreamers, Lekodi joined the AGHCA team. A creative go-getter, he enjoys hiking, reading, learning new tech and is on the path to releasing his first novel. We're thrilled to have him!
It wasn't long before Lekodi was welcoming members of the British royal family. Lekodi co-founded LoudInk with Madalo Banda, who was presented with a Queen's Young Leaders Award by Her Majesty the Queen at Buckingham Palace last year. This March, the Countess of Wessex traveled to Malawi to see LoudInk in action. Working with secondary students at Cherub School in Lilongwe, Lekodi and Madalo facilitated a discussion about career dreams, ran a workshop on creative writing, and invited two students to recite their stories. At a reception in the residence of the British High Commissioner, Madalo gave an inspiring speech about the origins of the project and the role of youth in Malawi.
As students return from end of year break, the AGHCA is gearing up for SWD 2017. In recruiting this year's Dreamers, we've decided to try something new. Instead of running info sessions presenting the programme, we're launching Dream Machines. Using the participatory, arts-based approaches for which the AGHCA is known, Dream Machines are interactive and collaborative brainstorming extravaganzas. Inspired by design thinking, students will be using image theatre, role-play, and word games to generate and iterate ideas for tackling challenges they've identified in their communities. Of course, we'll still tell them all about SWD and hand out applications, but they'll be able to draw on the feedback of their peers as they flesh out their proposals. We can't wait to share what they come up with…