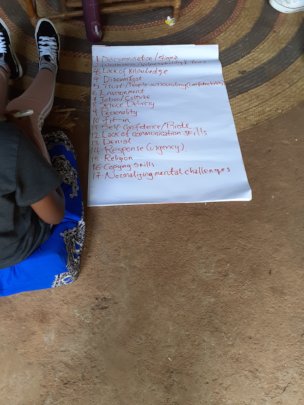 Zamumtima Sizawekha means 'If you have a burden, you do not have to carry it on your own' in Malawi's Chichewa language. Mental health issues have been described as a 'Shadow Pandemic' to Covid-19. Thus, we started out the project working with the students on the ground on mental health stigma and they came up with some interesting ideas. We have additionally been raising awareness online, showing how art can be used to tackle mental health issues. In this report, we look at these things.
We began with an online event that looked at art and mental health. This event brought together artists from Malawi and around the world to open the conversation about mental health and stigma. It was part of ArtGlo's week to #Act4SDGs celebrations and launched the new Zamumtima Sizawekha project.
Featured artists included: Phindu Zaie, Amanda Shea, Watipaso Nungu, Kas, Chim Chisiza, Menes La Plume, Tigris, Hlekwa, That Guy & Malika
The event was for free and was streamed on Facebook Live and HowlRound. Links at the end of the report. It is also still available on both links. It has racked up 677 views on Facebook
From there continued to gather momentum with the recruitment of students from different programs of study at Chancellor College. They came from in different years of study and different ages. The project brought them together allowing for the sharing of information from different disciplines and backgrounds around mental health stigma. It was a rigorous selection process, with both written applications and formal interviews with potential applications, until 21 students were selected. They underwent 3 trainings that helped shape their projects.
Training one focused on building up their capacity in mental health and helping them plan how they can learn from the community. The session two days were filled with interactive sessions that explored issues around mental health stigma, participatory arts and design thinking. One session looked into the pressures that society builds, that lead to mental health stigma. The session highlighted how issues to identity, toxic masculinity and gender stereotypes lead to isolation and mental health stigma. They also got to learn from a clinical phycologist and researcher who dove into mental health in technical detail. By the end of the training, they had come up with research questions to ask the local community youth around mental health and how stigma manifests itself.
They next got to learn from the community and were able to emersed themselves and interview community members and learn about some of the factors that lead to mental health stigma. They found that a lot of people were anxious to talk about mental health, others noticed that male respondents seemed more interested than female ones and that most people know where to access counselling services but choose not to go. One major factor was language as a barrier. The native language Chichewa does not have direct words for all types of mental health issues, which leads to misunderstanding and people being unable to express themselves fully.
They came back together and learning how to refine their ideas and start piecing together their project ideas. They formed teams and, post the training, got to collaborate to come up with project ideas to tackle the issues that they found. Some of the issues they found include; a large knowledge gap when it comes to mental health issues, belief in misconceptions and a general unwillingness of people to open up about their issues to others and even counsellors. Osaphweketsa Madando. Osaphweketsa Madando, would like to create small clubs and have 30 youth from the community learn about and practice forum theatre. Their research highlighted that certain groups of people are either not sure or believe in misconceptions that are to do with mental health.
The collaborative experience has given rise to three groups of vibrant young people with catchy project names, a clear vision and mission for their projects and a rejuvenated passion to do something about mental health stigma in their community using Human-Centred Design and participatory arts. We are excited to see what happens next with their ideas in the new year.
We ended the year with one more collaborative event during the Hamwe festival. Hamwe Festival is an annual event that celebrates and encourages the contributions of creative industries in the global health field. It is a collaboration between global health professionals and creatives. This year the festival's theme is on Social Justice and Mental Health. ArtGlo's session was being led by Lekodi Magombo joined by psychologist Tilinao Lamba and artists Nyocase and Phindu Banda, diving into how art relates to tackling mental health stigma and how the project is doing so in the community. All festival sessions were streamed online (included a link below). It is currently standing at 5,438 views on YouTube.
We look forward to what happens next year!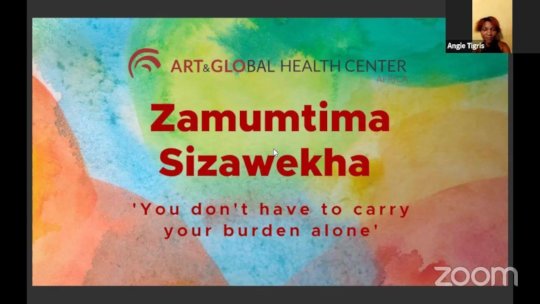 Links: