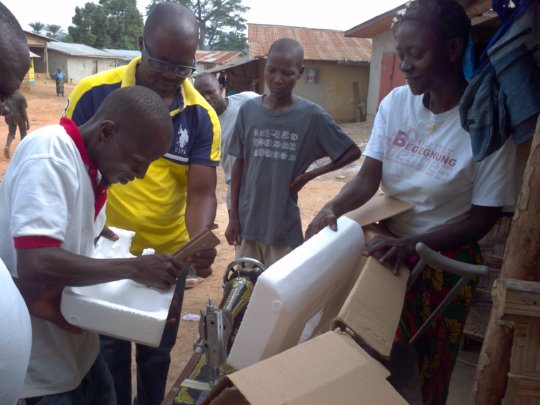 35 marginalized youths of the Education Project have received scholarship and follow-on project support in 2016. In December of 2015, 25 students, mostly ex-combatants graduated from the Lutheran Vocational Training Center after an elevens months of training in various vocational disciplines such as Masonry, carpentry, Agriculture and animal husbandry, Electricity, Plumbing, Auto-mechanic and general life skills training.
In continuation of the project, additional 25 students were admitted during the period under review for another eleven months vocational sojourn. Out of the 25 students, 18 are females, while 7 are males. The high number of females to males signifies a huge progress in support of women empowerment.
Additionally, follow-on project support were given to ten students of past graduates who are presently making effort to establish their own enterprises. They were given equipment and money as signs of motivation to buttress their initiative.
In general, the training has made a tremendous impact on the lives of the students. It has shifted their perceived notion that they were less value human beings and their lives were meaningless to thinking more positively about themselves, acknowledging that they have energies and talents that prove to be valuable and important not only for themselves, but their family members and the community as whole. Secondly, most of them started the training with no idea on any skills, but today, they can speak with excessive pride and self-satisfaction that they are able to make a change through the application of their skills. Value system such as respect and tolerance have been restored as a result of the training. This is manifested through their actions, speeches and physical appearances.
Family members have begun reaping the benefit of the training as well. Family names that were associated with drugs, alcohol and robbery in the community are gradually fading out. Those names are now turning into forces for good in the community. Today, family people can now feel confident to associate themselves with training participants because they are no longer involved in things that brought shame, and disrepute to their family-hood. Some of the participants are now earning money from their skills and supporting their family.
"When I was fighting in the war my father and mother died almost at the end of the war. Then I became addicted to drugs and alcohol since I was eight years. Now I am 25 years with two children but did not go to school. I have been living in the street, thinking that there was no better life for me any more but when I saw my friend who and I fought together came and learned how to build, I decided to come to the program. For the time spent learning skills, I am now able to lay blocks and build up a house wall. I am grateful to our sponsors for giving me the opportunity to become one of the best builders in this region. Today I have established my own building construction business to make money to help my family and the society" (Vesselee, 25 years).
The community on the other hand is being also positively affected by the skills of these participants. The occurrence of violence instances and act of banishment are gradually reducing in the community. The community is now tapping on the expertise of these participants to clean farm and markets roads, repair drainages, construct houses, repair motorbikes and vehicles, electrify houses and hospitals, roof building, produce vegetables and raise cattle, etc.
We want to extend our thanks to our partners for their donations and for the opportunity given us to extend support to young people in need.