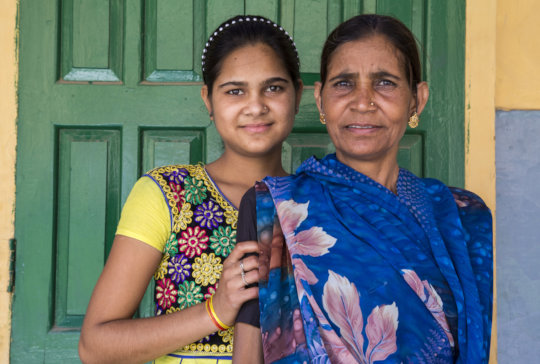 Dear Supporter,
I would like to share with you about a remarkable young girl, a school drop-out, despite living with HIV and the challenges that come with it has pushed all boundaries to support the education of her younger siblings.
Jyothi, 18, working in a textile company close to her village in Gadag district, Karnataka, is the main earning member of her family of four, consisting of her mother and two younger siblings. A few years ago her father was admitted to a government hospital where he was diagnosed with AIDS. During the testing of all family members, Jyothi and her younger sister tested HIV positive. Soon, her father passed away due to AIDS. Her mother who worked as a porter couldn't earn enough for the family. The family didn't have enough food to eat at times.
After Jyoti's elder sister got married, Jyoti had to shoulder the family responsibilities. So she dropped out of the school to help the family and to keep her younger brother and sister in school. Jyoti was one of the adolescents to participate in our special training for adolescents living with HIV where they were provided with information and knowledge on sex, sexual health and gender. "I felt much more hopeful and confident after the training", said Jyothi adding with a smile, "We could all share our challenges and encourage each other."
It has been seven years since Jyoti and her sister started ART, treatment for HIV at a government hospital. Their health has been steady and with the help of our team Jyothi's mom is also availing the 'widow's pension scheme'. The small financial assistance is a big relief to the family and we salute their indomitable spirit.
Major activities conducted during the quarter
HIV Testing for Spouses and Children: Our Care and Support Centres (CSCs) have been testing spouses or children of all persons tested HIV positive. However, we noticed only 30% followed through the testing. To understand the reasons behind poor testing, we conducted a small survey in randomly selected states.
As per the survey outcomes, the number one reason is a lack of awareness and health-seeking behaviour. We will work towards better education and counselling to help ensure HIV testing of spouses or children. And to continually train the outreach workers on counselling to ensure high efficiency.
There were other reasons such as spouse or children residing in other cities, not able to take time from work, not enough finances to travel to the testing centre, verbal confirmation of negative test result of the family members but no proof available etc.
Educate Adolescents living with HIV: We worked with adolescents living with HIV in five states, Manipur, Rajasthan, UP, Maharashtra and Delhi to enhance their knowledge on sex, sexuality and gender. We trained 153 adolescents in master training and reached out to 1,289 youth through 12 Support group formed and led by 20 Peer Champions that were selected after the completion of the training. The training included dealing with self-stigma, social stigma and discrimination.
Our initiative specifically bridged the knowledge gap for adolescents living with HIV on issues that are not only private but also deemed taboo in our society. The lack of awareness can lead to multiple risks and vulnerabilities. Now that they are equipped with the right information, they are much more capable to make informed choices.
Media Advocacy-Tamil Nadu: A State Level event was held addressing the issue of Positive Blood Transfusion to a pregnant woman in Sathur GH, Virudhunagar district in Tamil Nadu State. There was a Press meet with the print and electronic media personnel in Virudhunagar district. Virudhunagar District HIV Ullor Nala Sangam (VDHUNS); the Salem District Network of Positive People (SNP+) and other partners were engaged in this respect. This event was widely covered by the print and electronic media at the State level. Through this event, the Government, public and the service providers got sensitized and the government had announced various welfare and relief measures to the positive blood recipient including pregnant mothers.
Impact in numbers:
519520 people living with HIV were screened for TB in HIV care and treatment settings
82730 PLHIV who are lost to follow up (LFU) and missed were tracked back with a definite outcome
8362 people who were tested for HIV and 659 of those tested HIV positive were initiated on ART