Dear All Donors,
We are highly obliged that your support has given more strength to achieve more mile stones. A project VITE is at its final stage. Some of the pictures are attached herewith. A project VITE has achieved significant results in society and we shortly will update success stories to all our worthy donors and other stakeholders.
We believe that without investing in women, we cannot achieve significant social development in our society. SEED has took initiative to start investing in desert. Because we believe that women can support their families by utilizing skills they are learning.
Empowering Women, Empowering Society.
Your further support will keep us motivated to serve more to society.
Executive Director
Arslan Ansari
SEED Organization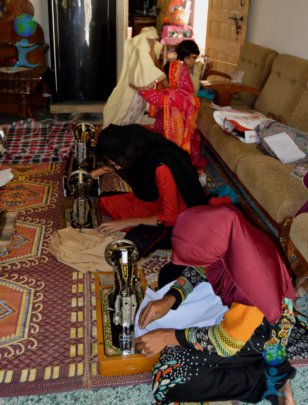 Hi,
GOOD Day!
I would like to thank to all the respected donors who trust us, give their donations and help us to achieve significant impact we achieved in past 12 months. As VITE Project (Vocational Institute of Technical Education) has successfully completed its core modules of trainings and technical skills to the deprived families of Cholistan in two stages. We initially, divided this project in two stages i.e. Technical education and skills to the girls under age 8 to 18 to achieve multiple objectives of this project with subtitle of Mobile IT Education Center. We delivered technical education to 25 students and we achieve significant impact of learning through their outcomes.
In stage two, we have started our training of basic tailoring and basics of fashion designing, considering the current trends in the market in order to achieve self- Employment and sustainable socio economic development. We selected females form 6BC Village, new Cholistan, Bahawalpur and give comprehensive training for 4 months. We can proudly share that we have significantly achieve our set objects at set standards. Some of the trainee has started a business of tailoring at their home and helping their family. Their success stories will also send you through email.
I, on the behalf of SEED organization, personally thankful to you and globalgiving who gave us an opportunity to interact with the world and donors. The project will be close in Feb, 2017. We again thankful to all the donors who trust and give us hope to go ahead to achieve more objectives.
Regards
Arslan Ansari
EXECUTIVE DIRECTOR
SEED Organization
Links:
Dear Donors,
SEED has achieve an other miles stone of VITE Project and still going on the right track. This all is because of your trust you have given to SEED Organization and its related people who are eager to make a real positive change in the society where everyone can enjoy the atleast basic needs..
SEED has dedicated to work for poor and believe in its idealogy of empowering society by empowering individuals. But it was impossible for us to achive these miles stones with your cooperations and trust you have made and we hope that you will continue to support us in future.
Now we are almost going to complete our project but we are facing dificulty to purchase equipment and material for trainees. Two of our trainees are now expert and they will start earning very soon. They are trained for basic tailoring and basic designing. Again it was not possible to achieve without your support and trust.
Wish us good luck ...
Regards
Arslan Ansari
Executive Director
SEED Organization
www.seedorganization.org
www.facebook.com/seedorg
info.seedorg@gmail.com
WARNING: Javascript is currently disabled or is not available in your browser. GlobalGiving makes extensive use of Javascript and will not function properly with Javascript disabled.
Please enable Javascript
and refresh this page.