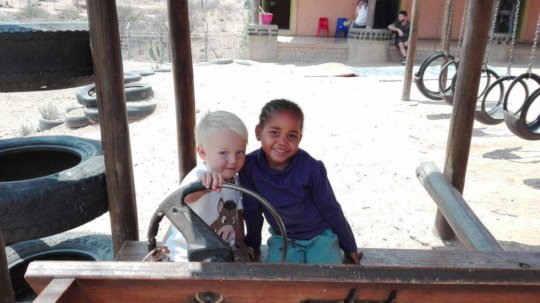 My name is Donna and I have been a volunteer at Mammadu for 5 months now. I arrived from New Zealand in March. My time at Mammadu has been full of such wonderful experiences. The children are an absolute delight- every day I receive 60 hugs and kisses. My name used to be teacher but I have progressed to being called Donna. As a team of volunteers, we work two shifts: either 7am to 3pm or 10am to 5 pm. We travel to school by taxi each day which costs $20 Namibian dollars to get there and $10 for the return trip home.
The younger children arrive in the morning and start their day with breakfast. By the time the volunteers arrive it's time for the classroom activities. We look after the youngest and we attempt to teach some a-b-c's and numbers. The classroom is often chaotic so a bit of teaching happens but mainly just trying to keep some order. They love story time and colouring. Around 10am we go into the playground and have play time with them until lunch time. I often sit in the sun while 6 little ones clamber all over me and plait my hair.
Some of their names are challenging for me so I stick to calling them sweetie, sweetheart, and love. After playtime, some of us help serve their lunch and by 12noon it's time to clean up dishes and help them with teeth brushing and then it's home time for them.
The volunteers have a break for 1hr or 2 until the older school children arrive around 1:30pm. In the afternoon, we serve lunch, do the dishes, monitor tooth paste for teeth brushing and are in the classrooms by 2:15 to help them with their homework. Some of the girls have had a school project to knit a bag. After rescuing the first one, which had many holes in it, I am now knitting for all of them. Some mornings I will make cookies or a cake. Meme Dina is our cook and takes a bit of winning over at the beginning but she really is a pussycat.
We are encouraged to travel while we are here and having time off to do that is not a problem (with notice). I have been on some great safari's in Namibia, but most of all I enjoy being with the kids at Mammadu.
Cheers to Mammadu!
______________________________________________________________________________
Other happenings at Mammadu at the moment:
We are busy preparing for the Anniversary of Mammadu, which will be on 4 November. To celebrate, we will invite families from the surrounding community, donors, and other stakeholders. The kids have been preparing a special show for the audience, which has the theme of recycling, upcycling, and renewable energy. The children will perform a show and then we will share a meal and cake with our guests. The children have spent the last few weeks learning the choreography for the show. They have also made their own costumes with recycled materials. We have been fortunate to have Lizzy visiting us again to help with the dancing routine. This time she is here with her boyfriend who seems to be an expert dancer so we are sure to put on a great show this year!
The last few months have not just been filled with hard work, the children have also had time for fun activities. They went out for pizza at the local shopping mall, enjoyed a visit to the Malaysian Ambassador's home (his wife is a supporter of Mammadu) where they swam and painted (Josia made a lovely painting), celebrated high academic achievement with a trip to the Hilton for 3 of the most achieved students, spent the afternoon at the Show Grounds where some children went on rides, and they celebrated several of their own birthdays, complete with cake and presents.
Ottilia unwrapped a princess set for her birthday, complete with the crown! The other children surrounded her in suspense as she peeled open the paper and just as the gift was revealed sweet Ashley gave Ottilia a kiss on the cheek as to say, "yeah, I'm so happy for you!". Petrus also celebrated his birthday recently and he was given a watch and a new storybook for kids with spooky stories in it. There were many other birthdays celebrated and several other important things to do at Mammadu, none of which would be possible without the wonderful volunteers who help us every day.
In fact, we have a very special volunteer at the moment. His name is Sebastian and he is visiting Mammadu everyday with his parents. He really enjoys playing with the kids and the kids enjoy playing with him- as you can see in the photos. Seeing each other's differences has been fun for the Mammadu kids and for Sebastian. They play with him and his hair, and he does the same. They enjoy holding him, and he enjoys rolling on the floor with them. It's really a nice sight to see!
At the moment, everything is going well at Mammadu. We, of course, have our struggles with behavior issues that result from instability at home, or the bullies who bother our kids when they are at school, but we continue to succeed. As previously mentioned, we appreciate the help of all of our volunteers but we are also grateful for the financial support from all of our donors. We couldn't run the Mammadu program without the assistance we get from each and every one of you! Thank you so much, from all of us to all of you!!