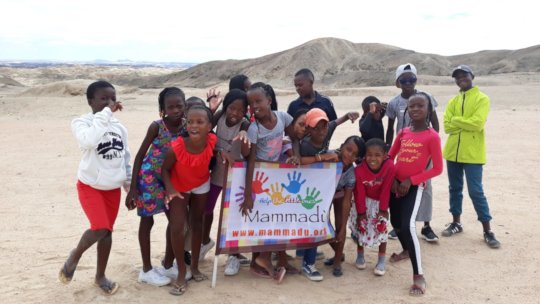 Warm greetings to all my dear friends
End of last year we had our final outing for our top learners. We visited Swakopmund a coastal town from where we did day trips to the surrounding area. Capecross to visit the seal colony, moon landscape and Welwitschia Mirabilis, Pelican point in a 4x4 Trip and a little cruise in the bay, to see Pelicans, seals and other marine life. Although it was freezing cold the kids took some swims in the ocean. We want to thank Naude and Katja for the 4x4 Tour, Mola Mola for the Cruise and Gondwana for the delicious Brunch at the Delight.
The kids enjoyed every moment and it will be a lifetime experience for them.
As you most probably know some of the children have distant sponsors, who contribute financially for the school fees and the wellbeing of the children at Mammadu center.
In some cases the sponsors are not distant at all, two couples came with on the tour last year to spend that joyful time together with their child.
But unfortunately not all the sponsors have the time or can afford a trip to Namibia, but the kids communicate anyway nearly daily with their sponsor via whatsApp. They send a lot of selfies but they also text a lot, here one of the most funny conversations, for privacy reasons I won't put the names.
Kid: Hi Mom (the kids call their sponsors mom or dad)
Mom: Hi
Kid: Glad to hear from you again
Mom: I'm having exams and I'm studying a lot. How are you?
Kid: I'm fine and I'm also studying hard to make you happy
Mom: That's good! Are you having fun at school?
Kid: Yes I am, but too much work cause I was chosen as a prefect
Mom: Oh really? Congratulations!! What do you have to do as a prefect?
Kid: Look after the lower primary and senior primary and the kindergartens and I should make sure the school is clean
Mom: That is great. Do you like it?
Kid: Yes I do and I will try my best to help others so that they can be prefects one day
Mom: That sounds so good! I am really proud of you
Kid: Can you do something for me?
Mom: Sure, what?
Kid: Can you please pray for me that I pass grate 7?
Mom: I can surely do that. But you also need to put some effort in it and study! But I will do
Kid: I will also pray for you
Mom: Thank you
Kid: Love you, may god bless you with your exams. I LOVE U
Mom: I love you too!
I randomly check their communications, not to harm their privacy but to just know what they do, so when I saw " Can you do something for me" I just expected a request for a toy or a cell phone but when I went on reading it was just so sweet to me, grate 7 must be truly a challenge for the kids.
Hoping you had some fun reading this little chat I wish you a lovely day and thank you for all your support during all this time. Should you like to become a sponsor please contact me.