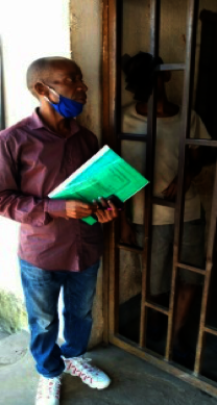 Since October 2020, thanks to the generous donations provided through GlobalGiving, International Bridges to Justice (IBJ) has been able to increase its efforts and focus on children in prison.
In the Democratic Republic of Congo (DRC) –
Our team in the DRC was able to provide protection to children through dedicated legal representation in detention in 4 detention centers (prisons and jails) in South Kivu province. In total,
54 children received free legal aid, 7 of which were acquitted, 30 were released, and 2 received a sentence reduction. The cases of the remaining 14 children continue to be closely monitored.
Our team also conducted a public Rights Awareness Campaign on the Rights of the Detained Child in December by posting extracts the 2009 Child Protection Act in government offices and distributing flyers with the same information to the public through police stations. Two main objectives of this campaign were to promote awareness of the rights of detained children and prevent police abuse.
That same month, in cooperation with the prosecutor's office, we visited remote detention centers in the region during which we found two minors (aged 13 and 15) in police custody for the alleged (or accused of) theft of a neighbor's hen. Given their age and the nature of their crime, our lawyers were able to convince the judge to have them released to their parents.
Another success story involved a 15-year-old boy who informed our lawyers that he had just been told that his father was dead when the police appeared, arrested him and took him to the station. Once there, he saw that his older brothers had also been arrested for murder of their father. He maintained his innocence throughout his trial and the judge released him due to a lack of evidence, 7 months after his arrest.
In Burundi -
In December, our team in Burundi was been able to provide protection to children through free legal representation in the earliest stages of criminal proceedings, especially right after arrest and detention at police stations. IBJ Burundi Team also trained and mentored more defence lawyers for this very purpose. Our lawyers were able to provide legal representation to 5 children in police custody. Four of these children were released while still in police custody, the fifth case remains pending and is being closely followed.
One of the 4 children released was "Malick", a 17-year-old schoolboy from Bujumbura who was accused of robbery. He had assisted an adult in stealing 10 goats. He was remorseful and so had pleaded guilty and was cooperating with the police, helping them find 5 of the stolen goats, as well as the adult conspirator. "Malick" had been in police detention almost 2 weeks when Ms. Nibasumba, one of our lawyers, found him. She was able to successfully defend him and secure his release by arguing the importance of him continuing his studies, reminding the court of his truthfulness and cooperation with the police, and obtaining the assistance of his parents to pay restitution for the remaining goats. "Malick" was released in time to sit for his school exams.
On December 10th, in celebration of International Human Rights Day, our staff conducted a training and mentoring session for defence lawyers from the Burundi Bar Association on the topic of: Defence strategies for children detainedduring the COVID-19 pandemic. The main presenter and mentor, Ms. Aline Nijimbere, is a lawyer with over 20 years of experience defending children accused of crimes before the police, the prosecutor's office and the courts. Ms. Nijimbere discussed specific legal arguments pertaining to children as well as the problems presented poverty and by children being detained in remote areas. The 15 participants discussed improving communication and collaboration with justice system officials, increasing lawyers' presence in the more remote provinces, increasing the legal capacities of defence lawyers specifically regarding the laws governing the detention and prosecution of children.
In Syria –
Finally, our Syrian lawyers were able to take on the cases of 18 children who otherwise would not have been able to afford access to a lawyer. Of these 18 children, 15 were internally displaced persons given that they had been forced to flee their homes inside Syria. As a result of our legal interventions, all 18 cases received a positive outcome: 2 children were found innocent and the rest had their sentences reduced. They all expressed their intense satisfaction with the assistance of our lawyers. Fortunately, none of them were subjected to physical or psychological torture.