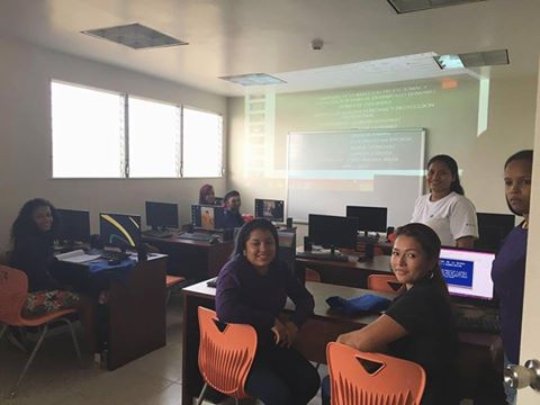 First of all, THANK YOU for your donations and on-going support for The Las Claras Program. Your actions have been key in establishing the program and getting settled in our home in Felipillo.

Nine months ago, we started the project believing in the power of education and the effect that it would have on empowering teen moms. Now, we have already started with our second group of teen moms! Inspired by the effects the program has had on the first group, at the end of February we welcomed 10 more teen mothers to be a part of the program.

Back in February our teen moms in the first group started to take computer and office clerk workshops given by INADEH (National Institute of Professional Training for Human Development). As part of the requirements of the institute, they have to wear professional uniforms during class. It was inspiring to look at them during their first class, and notice the happiness and hope that was caused by dressing professionally. They are completely empowered and believe in a better future for themselves and their babies. It´s extraordinary to look at them now: the girls have gained confidence in themselves, they have acquired entrepreneurial skills with which to work, and they've started to think about life aspirations. Some of them are still shy and all of them struggle with life outside the Center´s walls, but little by little we are chipping away their insecurities and working to gain better personal, social, educational and labor skills and abilities.
We were also invited to participate in the Foodie Festival done by Blogger Week LATAM, a major event that took place in Panama City in benefit of Las Claras. We spent the weekend raising awareness, and were joined by a big part of Las Claras teen moms that wanted to join the activities, sell their products (thanks to our entrepreneurial workshops, lots of them are already gaining some income), and meet the public.
Meanwhile, the second and newest group of teen mothers have already started with individual and group therapy. We are also getting them involved in all kinds of activities and workshops, so they can begin their journey towards empowerment and motivation. English class with our star volunteer, teacher Bertha, has already become one of their favorites! At the same time, we are giving our all in the search for more teen mothers to participate in the program, and continue our walks through health centers near the area.
Another noteworthy event that happened in the past months was the visit of TCU (Texas Christian University) students and faculty. As part of their program, TCU Global Academy, they came to the Las Claras Center so they could learn about our project, make interviews to our teen mothers and the community that surrounds them, and propose new ideas for a better sustainability of both the Felipillo area and the program.
All through April, the first group of Las Claras received intensive workshops on the labor market, interview and job search tips, etc. by allied companies, such as Copa Airlines and Metrobank, that have joined our fight for a better future. A few weeks ago, the coworking space Inventarios invited them to their headquarters, so they could learn about different professions and get inspired by some of the coworking team life stories. It was an amazing experience for them: our teen mothers opened up with different people and talked about their dreams, life goals and struggles. They absorbed all information that was given and were energized by the experience.

As you can see, we´ve come a long way during these past months. Still, the reality in our country is one that requires action: only during 2015, there were 10,975 registered cases of teen and child pregnancy. And this number keeps on increasing, as every teen mom will most likely have a second child during the next 24 months. Worst of all, 75% of these girls will abandon schools. They will lack a plan for the future, self-esteen and confidence to pursue their dreams, a job to support themselves and their babies, and will add numbers to the cycle of poverty that pervades their environment.

Once more, we THANK YOU for your continuous support in this quest for a better quality of life for teen mothers and their children. PLEASE keep donating and invite others to join us in this quest with their donation!

More action still to come. Stay tuned :)