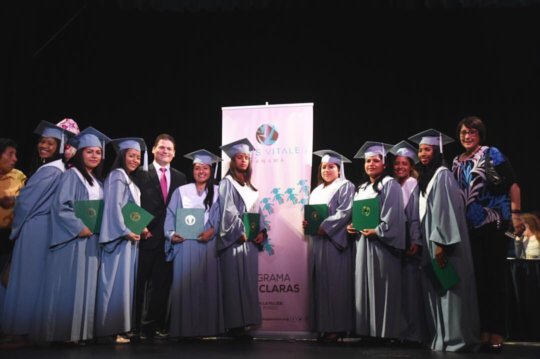 First of all, THANK YOU for your donations and on-going support for The Las Claras Program. Your actions have been key in establishing the program and getting settled in our home in Felipillo.

Las Claras started with the belief in the power of education and the effect that it would have on empowering teen moms. Now, our first group of teen mothers has graduated. In December they received their high school diplomas in Bachelor of Commerce and a certification for completing the Technical Program by INADEH.
We are incredibly proud of everything they have accomplished so far, and are sure that the coming months will bring further advances and opportunities for them. They are now bilingual professionals with intermediate English, and in their majority they have already been inserted into the workforce. One of them, in fact, is now working as administrative assistant for our own organization and we are incredibly happy to have her, Elsa Pimentel, in our team.

In January, our second group of teen mothers was invited to visit the Presidency, as an invitation from the First Lady and her team. They were given a tour of the installations, and had the opportunity to talk with several of the staff working for the First Lady, so they could tell their stories and goals to them and receive feedback.
In February, we started classes with the third group of teen mothers at our program! Our Executive Director, Ana María de Vega, welcomed them into the Las Claras Center, and the staff inducted them into the rules and dynamics through several workshops and icebreakers. This new group of teen mothers will be spending 18 months in the program, so they can also graduate from high school, get several technical certifications, receive more than 200 hours of psychological therapy, improve their communication, self-esteem, and soft skills that will allow them to become self-reliant and empowered individuals.
Groups 2 and 3 of Las Claras have also continued to receive a variety of workshops and classes, on top of the fixed syllabus.

One of our favorite parts of the work at Vital Voices Panama, is that it also allows for our programs to find merging points that creates space for collaboration between them. Clear examples are the workshops that our women entrepreneurs, from the Mentorship and Entrepreneurship Program, give to our teen mothers in the Las Claras Program. Through these women, our teens learn about arts, crafts, self-reliance, and empowerment, and it´s definitely one of their favorite aspects on their schedule

As you can see, we´ve come a long way during these past months. The teen mothers at the Las Claras Program have received care, education, and continuous support which allows them to find empowerment previously unknown to them. Still, the reality in our country is one that requires further action: only during 2015, there were 10,975 registered cases of teen and child pregnancy. And this number keeps on increasing, as every teen mom will most likely have a second child during the next 24 months. Worst of all, 75% of these girls will abandon schools. They will lack a plan for the future, self-esteem and confidence to pursue their dreams, a job to support themselves and their babies, and will add numbers to the cycle of poverty that pervades their environment.

Once more, we THANK YOU for your continuous support in this quest for a better quality of life for teen mothers and their children. PLEASE keep donating and invite others to join us in this quest with their donation!

More action still to come. Stay tuned :)