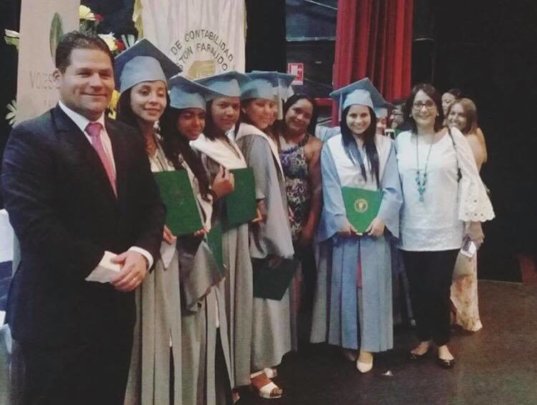 First of all, THANK YOU for your donations and on-going support for The Las Claras Program. Your actions have been key in establishing the program and getting settled in our home in Felipillo.
At the end of december we were proud to graduate our second group of teenage mothers who, after 18 months, successfully got to the finish line of our program. With the presence of our benefactors, donors, and helping friends, the graduation was full of emotional moments, scholarships for the best students, and even a special invitation from an American university so that one of our students could do an exchange trip to their facilities.
2018 started soon after, and with it came many new activities and initiatives. As you might remember, in October of last year we received a special visit from Anna Karine Asselin, current ambassador of Canada in our country. Together we signed an alliance to implement a new in-house project with the intention of having our students as empowered as leaders in their communities, by returning what they´ve learned and teaching other girls in the Felipillo area. Now this program is a reality: the "Veranito Las Claras" started at the end of January and has been developed by our third generation of students alongside the Canada Embassy. In twelve sessions, they will lead, motivate, and develop small projects, while at the same time enhancing their own experience and abilities as agents of change. The initiative also has the support and participation of the Felipillo Community, with leaders from the area offering a helping hand to our girls.
Currently, our groups 3-4 have also continued to receive a variety of workshops and classes, on top of the fixed syllabus. Last but not least, we have also continued with monthly parent/caretaker reunions in order to maintain family peace, and to motivate their support towards their daughters so they can finish their studies.
As you can see, we´ve come a long way during these past months. Las Claras started with the belief that a profound social transformation could only be achieved through the power of education. Now, we have successfully graduated two groups of teen mothers who have received a double degree in Bachelor of Commerce, with a specialization in Accounting from the Gastón Faraudo School, and a Technical Program degree from INADEH. We have graduated bilingual professionals that have been successfully inserted in the labor market, with a large percentage of them pursuing university studies and scholarships for international exchanges. 100% of our graduates have improved their social skills, communication, self-confidence and personal habits. All of our students believe that the only way to transform their lives, reduce teenage pregnancy and get out of poverty is through education.
The teen mothers at the Las Claras Program have received care, education, and continuous support which allows them to find empowerment previously unknown to them. Still, the reality in our country is one that requires further action: only during 2016, there were 11,298 registered (not registered are cases in the private and social security sectors) cases of teen and child pregnancy. And this number keeps on increasing, as every teen mom will most likely have a second child during the next 24 months. Worst of all, 75% of these girls will abandon schools. They will lack a plan for the future, self-esteem and confidence to pursue their dreams, a job to support themselves and their babies, and will add numbers to the cycle of poverty that pervades their environment.
Once more, we THANK YOU for your continuous support in this quest for a better quality of life for teen mothers and their children. PLEASE keep donating and invite others to join us in this quest with their donation!
More action still to come. Stay tuned :)