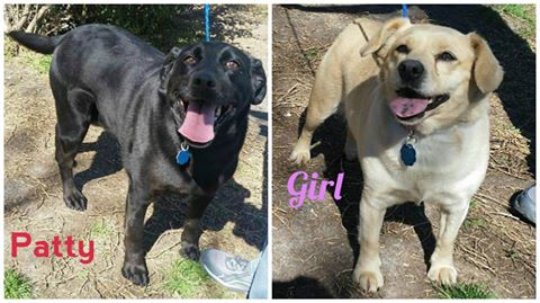 This has been a busy 2016 so far - Since 1/1/16, we have been able to find fur-ever homes for 166 cats and dogs combined! Thanks to our generous donors, we have been able to achieve the majority of our ongoing shelter renovations as well. We are halfway through updating our cat ringworm room, the sickbay, and the main hallway in the shelter.
Here two few of our favorite adoption stories from 2016:
Tess and PC:
Petite Tess and her sidekick, PC, were surrendered to HSDC/DKC in May, 2014, when their owner was experiencing difficulties in her marriage and reported her husband was abusing them. Tess had been adopted from DKC as a kitten in 2007, and she was 7 years old at the time she was returned to DKC. PC was 8 years old, having been born in 2006. Tess and PC went their separate ways inside the shelter. Tess preferred to hang out in a comfy cat bed and wait for volunteers and visitors to approach her, while PC followed people from room to room and sat in a lap whenever she could find one. They adjusted to shelter life in their own ways.
In January, 2016, a couple looking for an adult cat saw Tess and decided she might be a good match for their 16 year old cat. She was adopted at almost 9 years of age. In April, 2016, a kind lady with a 12 year old son came to the shelter to adopt an adult cat, and PC found her. PC was adopted at 10 years of age. It is a very special occasion when a senior cat finds a new home, and staff and volunteers all cheered when they heard of Tess and PC's good fortune!
Patty and Girl:
A friend of one of our longtime volunteers reached out to her in February regarding her ailing, 93-year old father whom cared for two dogs, Patty and Girl, in Arkansas. Patty, a Chi/Lab mix, and her best friend Girl, an older, Black Lab had been dumped on a country road near this family's home and have been receiving lots of love, shelter, food, and treats by since then. Unfortunately, the father was being transferred to a hospice, and his family members wanted to do everything they could to secure a positive fate for his beloved dogs. Their story was brought up to our shelter director, and without hesitation, she agreed to take in the two pups.
They arrived at the shelter where they received basic medical care and were in good health overall. They attended a few adopt a pet events in their short stay with us, including a first time event at Community Brewery in Dallas. It was here where their lives changed forever. Jeanna, a patron at Community Brewery saw Girl at this event, and couldn't help but notice how happy she was, with her tail constantly wagging. She began asking the volunteers about her story and learned about her best friend, Patty, whom was back at the shelter. Days later, Jeanna filled out an application for Girl, only to have her best friend, Lupe, fill out an application for Patty, too! We couldn't have been happier for these two girls! Not only did they get adopted at the same time, but they are able to see each other weekly for play dates thanks to Jeanna and Lupe's friendship.
Here are updates from both Jeanna and Lupe:
From Jeanna: "I absolutely adore her! My cat is not quite as thrilled but he's getting used to her. Naps on the couch are their favorite. We have a pretty good routine down now. She really loves walks so we walk a ton and she's definitely lost some weight since I got her. She goes to doggy daycare while I'm at work. Getting her comfortable being left alone is the only issue we're trying to work on, otherwise she's great! Oh and we try to have doggy dates with Patty about once a week. Thank you so much for this sweet little girl!"
From Lupe: "Lady, formally known as Patty, is doing great!! We found a vet in Addison called CityVet. We have monthly appointments to get her a bath and to get her Heartworm meds taken. She's on a special diet to drop her "love handles" off and we go on 3 walks a day that total about a mile and half. We also schedule time to see Jeanna and Girl at least once a week. She truly has changed my life and I spoil her rotten. I'm pretty sure she eats better than I do. I will send a follow up picture next month when she turns 10! I plan on celebrating her birthday with a doggie cake."
"Here are pictures of Lady's (Patty) 10th birthday. We celebrated at Lazy Dog in Addison with Brinkley (Girl) and I got her cake from Three Dog Bakery in Plano. We are still maintaining our 3 walks a day and Lady is close to her ideal weight!"