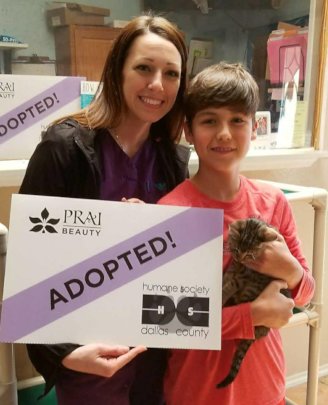 We Get by with a Little Help from our Friends…
It's the season of love, and we are feeling it from our friends and partners within our community! The efforts of our shelter extend far beyond our imagination when our volunteers, partners, and supporters step up to help us achieve our goal. Our goal to provide shelter and love to animals in need in the Dallas area seems so simple, yet it often takes the supportive hands of the community we serve that takes us so much further.
In January, we partnered with PRAI Beauty, through the Humane Society of the United States, to sponsor adoption fees the weekend of January 12-14th. This Free the Shelters adoption event proved to be a huge success for our feline friends, where 19 of our cats and kittens found their FUR-ever homes! To Peanut, Nathaniel, Darcey and Danny, and all of our cats whom found homes this past month, we wish you all of the best!
"A boy and his dog make a glorious pair; No better friendship is found anywhere"
Thanks to one of our very, special pups, our shelter has teamed up with the AMAZING Matt, at Wagg the Dog Trainer, to train and socialize our dogs. This special pup, Haven, was on her way to be a long-time resident at DKC, when shelter staff decided to try to do more for her. Haven is a 2-yr old, deaf Dalmatian / Lab mix who had been with us 10 months. Our staff knew she needed additional help if she had any chance finding a loving home, so they took Haven to a doggie daycare event where she met Matt for the first time. Using funding raised by the community, we were able to send her to train with Matt at his place for a few weeks.
Now THIS is where the story gets good…
During this time, we watched as Haven excelled in training, and Matt was very pleased with her progress. He decided that taking her back to the shelter after her training would ultimately break her spirit, so he agreed to foster her until she found the right home. An anonymous donor even paid for her adoption fee! Haven was tugging at Matt's heartstrings, but it was clear she had left an impression on a very special boy; Matt's son. The bond between Haven and Matt's son had become so strong, he didn't want to let her go. In a seemingly perfect ending, Haven is now a permanent part of Matt's pack and will grow up alongside Matt's son. This relationship led to a partnership with Wagg the Dog Trainer, where Matt has agreed to continue to support the shelter through his training services! Best of luck to you, little Haven, you deserve the greatest life!