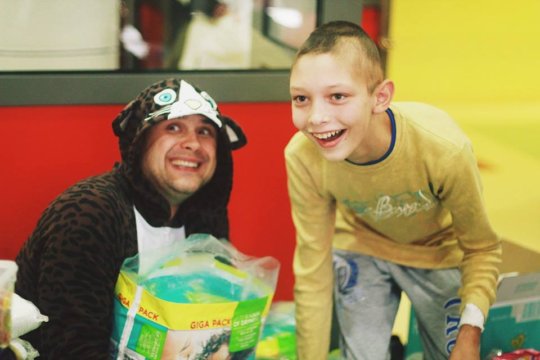 During this fall our charity foundation spent 32 855 euros (35 009 USD) for the sick children's medical treatment, care and therapy. We bought non-reimbursable drugs for Rusne, Kamile, Timothy and Rimvydas, covered treatment expenses in foreign clinics for three children with eye cancer – Maximiliano, Laurynas and Domas. Every week we were taking various nursing items (diapers, wet wipes, colorful band-aids with pictures) to the hospitals and have organized therapy sessions for the sick children and their parents. We received 1 267 euros (1350 USD) from our good-hearted Global Giving donors.
This autumn was full of events in Vilnius and Kaunas hospitals. Each week we organized at least two creative sessions. For each event we spent around 30 Euros. Children together with their parents took part in several events like chemical experiments, gypsum-work, ebru painting on the water, chocolate degustation, sand painting, painting on silk, making Mayan dolls, origami, calligraphy, glass decoration and decoupage sessions. Children and their parents told, that these sessions help to relieve from stress and are very relaxing.
Most of children between the ages of 3-7 years that have oncological disease, develop a need for diapers again, so we try to provide various sizes of diapers for children, as well as wet wipes, creams, mouthwashes, colorful band-aids with pictures etc. During the three month period, we have delivered hygiene products to the oncohematology departments in Vilnius and Kaunas, all worth approximately 1000 euros. "It feels like Christmas! " – told one of the teacher Vitalija from Kaunas Children's Hospital oncology department, when she sow the bags full of gifts and hygiene measures donated for children.
Only 1 year old boy Laurynas from Klaipeda and five month boy Domas from Kazlu Ruda, both were diagnosed with Retinoblastoma - an eye cancer. Children, urgently needs a treatment abroad, since to heal them successfully in Lithuania is no longer possible. Both boys are sent to Lausanne medical clinic in Switzerland. The necessary amount of expenses for treatment, nursing, travel and accommodation reaches 40 - 60 thousands euro. This enormous amount of money is an unbearable financial burden for both families. Therefore, over a month period our charity foundation paid over 2000 euros for Domas and Laurynas first journey to clinics in Switzerland. The journey was full of worries, but except of that went very smoothly.
Also, we have paid 5784 euros for the treatment of Maximiliano, who has an eye cancer (retinoblastoma), and is being successfully treated in Switzerland. Mother of Maximiliano says: "In Switzerland clinic the boy eye vision was tested, and miracle happened, as Maximiliano can see everything. For the one year professor Mr.F.Munier will be looking after us. We have tears in our eyes when we see how many people helped us. Our family is extremely grateful for everyone's assistance and support."
Our organisation's photography exhibition Loved and Loving was opened in November at Ozas shopping center. It's a unique exhibition portraying mothers who have kids with cancer and telling their touching stories for the first time in Lithuania. We believe that these inspiring mothers and their stories would encourage other women not to give up when facing such life-changing hardship and think positive. During a child's illness, mothers with their kids spend at least half a year in hospitals. They have to stay strong because their experiences are strongly felt by their kids. "I've managed to release the heaviness and anxiety. I am grateful for each day I have and for the opportunity to see the hope in these hospital's corridors" - thought of a mother having experienced her daughters illness and having her portrait displayed.
We are more than happy to see that children are getting well. We want to say sincere thank you for everybody, who supports children with cancer and their families. Thank you for your kindness!