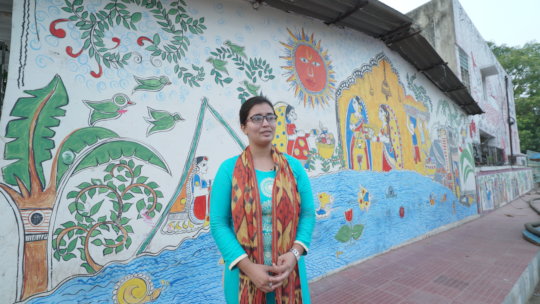 Very recently over 100 artists from in and around Patna came together to paint hundreds of Madhubani murals across the capital city of Bihar. This was part of a social experiment to put messages in the public domain about the potential of women at work in new careers, enterprises and new roles. It was also to take on the city's overwhelming cleanliness problem and say 'we can clean this up'.
Patna, in recent times, has become one of the most polluted cities in India. It's ranked #2 after Delhi's #1. The responsibility of cleanliness has always been placed on the Patna Municipal Corporation (PMC). In reality, the responsibility of the city's garbage and cleanliness problem and massive clean-up is with all of us.
Through the paintings, the city hoped that Madhubani art, being Bihar's most well-respected art form would motivate us all to stop littering and defacing the city.
For a moment, Patna has been transformed into a living and breathing work of art.
We, Going to School, were in Patna to understand where the paintings came from, who they were for, what their messages were and were on the way to Madhbubani, the source of where the feminist art-form that originally used organic colors came from.
Back to Patna, this initiative by the Patna Municipal Corporation and Patna Smart City Limited, called 'Mithila Meets Magadha', aims to cover 600,000 feet of public space. In this first phase, artists worked collectively and took 90 days to complete the paintings.
The murals tell stories of the undying spirit of art and the power of collective action led by women. We can clean this up.
The Stories
Many tell stories from Indian mythology and the sacred texts such as the Ramayan – which is also what Madhubani art is known for.
However, most tell stories of modern day issues – civic awareness, women's empowerment, gender equality, nature conservation, climate change, sustainability, sustainable beauty, entrepreneurship, equal rights, awareness, hope, revolution and identity among many others.
For example, artist Nutan focuses on the theme of women's empowerment. Her painting shows women as self-sufficient and equal contributors to society. She wants to show that women can work together to create change. Pawan and Deep want to raise awareness about climate change. Pushpa's art tells the story of freedom because she has felt trapped. She survived cancer, four girl abortions and now lives as a single parent with mental health challenges. Rahul made a mural that shows equal voting rights for women and men. Ranu wants his art to inspire design thinking and social awareness and be used on the right products. Ritu's story is about devotion – devotion to your purpose. She also believes that a painting can communicate whatever it wants to, to the viewer.
Rohit wants to use his art as 'protest art'. His mural about nature and the forest talks of lives being destroyed by global warming and climate change. Rupesh's painting talks about yoga and the importance of physical exercise for a healthy mind and body. Usha's story is about empowering women to earn and through this lead a revolution. Vinod's work shows singularity in nature and uses monotone colours to convey this.
All the art is characterised by bright, vibrant colours, usage of natural dyes, and particular motifs and elements very important to Madhubani paintings. The fish, leaves, big eyes, geometrical patterns, kachni and bharni technique and one side of characters' faces.
Skills
What skills did the artists utilise to create the murals? While the artists spoke of the challenges they faced when creating the murals, they did give an insight into the many skills required as a Madhubani artist, apart from the obvious such as knowledge of colour, and knowledge of the style of painting.
Nutan said she had to learn how to make a plan. She was also involved in building teams, taking on a leadership role, and had to learn diplomacy on the job. She learned responsibility, taking an initiative, taking a risk, time management and multi-tasking. She also learned how to be doting but firm. She will soon travel to Australia, Singapore and Indonesia for an international assignment. Rahul used his public relations skills and ability to work well with others to build team unity and overcome obstacles. Hard work, confidence, technique, patience and determination are skills common to many artists.
Making money through Madhubani
While there is much work to be done with regards to earning a living from Madhubani art, some are able to sustain themselves through it. For example, Premchand pays his college tuition fee of INR 75,000 through the art he creates for clients. Pushpa earns a living through Madhubani art and supports her daughter as a single parent.
Impact
The people of the city are seeing a difference in general behaviour. Citizens and traders say there is less litter. Not everyone knows the significance of the paintings but they appreciate that it has changed the mind-set of the public.
On the other hand, artists have a burning desire to use their art and this opportunity to effect a change, however small. One of the most powerful changes, according to someone we chatted to walking by, is that people feel that that the paintings have beautified the city so much that no one has the heart to dirty it again. People revere Madhubani art and the mythological characters from Indian culture. In the past, people would put small pictures of gods and goddesses on walls to prevent people from using it as a toilet. Most of the times such tactics did not work. Hopefully the size and extent of these paintings will.