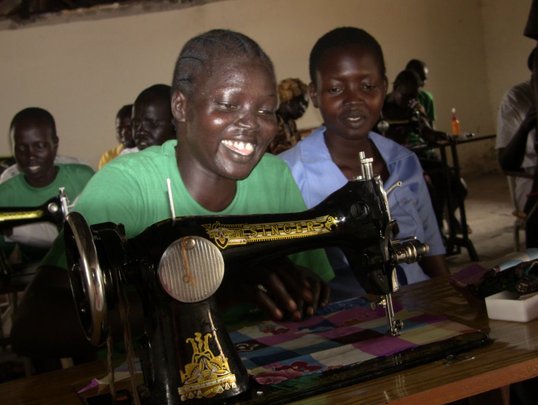 Last Mango in Bor- HIV/AIDS Youth Leadership & Pad Production Programs a success!
(The success of this sustainable program is because of the tremendous support we have gotten from all our of our GlobalGiving donors!)
PESS South Sudan Director, Daniel Majok Gai and I met with Bor County Commissioner, Abraham Mamer Ruk to follow up and give him a final report on the HIV/AIDS Youth Leadership and the Sanitary Pad Production Programs. He was impressed with our three month project and with the number of pupils we had in our training classes who will in turn train the students at their four schools. The highlight is the whole state of Jonglei, through the Ministry of Education, will embed it in the school curriculum!
Daniel and I also traveled to Pagook, Daniel's home village and one of the areas PESS supports girls' education and builds classrooms.
During the crisis in December of 2013 everyone fled the quiet village of Pagook as their homes were set on fire, cattle stolen and approximately more than a dozen killed by the so-called rebels. Where there were once family tukuls (homes) now grows prairie land.
But the community is rebuilding and starting to come back home. That's why PESS is committed to making sure students have classrooms to come back to. "So many buildings were burned down and destroyed but people are rebuilding and we are building classrooms which will be ready to open soon... when people come back," said Daniel.
The highlight of the HIV/AIDS youth leadership program week of course was the last few days of the sanitary pad vocational sewing program. Frustrated frowns turned into bright smiles as the women and girls developed their sewing skills. The sweet hum of sewing machines were accompanied by the girls and women harmonizing and singing songs of praise. It was magical. Their songs illustrated how happy they are to be learning a skill that will transform their lives.
One high achiever and PESS sponsored girl, Anai, a Sunlight Primary student, even sewed a skirt and top all on her own earlier in the week and wore it to class. She has never sewn anything in her life... ever! So, of course we had to have a fashion show! Abuk played music from her cell phone while Anai walked the fashion cat walk and twirled the bottom of her dress. Then others joined in on the fun. Even Daniel strutted his fashion style (keep your day job, Daniel - lol!)
Then it was time for our graduation ceremony. Each woman who completed the course received a certificate and a gift bag containing brand new sanitary pads sewn by women in the U.S. and other personal items. After testimonies from 28 girls and women, each school was gifted a sewing machine, scissors, notions and tools to continue on their own based on what they learned from the business model segment of the class.
We were honored to have a representative from the Ministry of Education's office was also a guest speaker. He encouraged the women to not just complete their studies but to also go on to become leaders in their own way in their communities and throughout South Sudan. "It is said that if you educate a woman, you educate a nation. This is very true, especially here in South Sudan," Langbaar Modern Secondary School Principal made a commitment to carry on the sewing program by encouraging the students to form a club at Langbaar and the other schools to teach others who were not able to take the PESS courses.
David, Ministry of Education health care specialist and one of our team members said he and Rebecca, our other health care professional, will take the model of the entire program (both the HIV/AIDS Youth Leadership and Menstrual Management) to other parts of the community and Jonglei state. "We can't keep this knowledge for ourselves. We must make sure everyone is getting HIV/AIDS information and knowledge."
They opened their minds to new ways of thinking like understanding how stigma and discrimination can not only hurt an individual but it can also destroy a community.
Policy makers from the county, state and local level have made a commitment to take ownership and see that these programs continue, expand and adapt to more communities and people in Jonglei state and even throughout South Sudan.
Despite political posturing at the capital in Juba and with the African Union and the failure of so-called peace talks South Sudanese, at least those here in Bor, are determined, with the support of Project Education South Sudan, to become an educated, thriving country contributing to the rest of the global community.