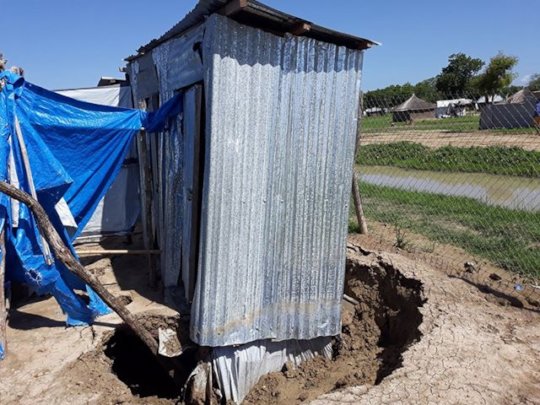 Bathrooms are important. How can almost 300 elementary school students, along with their teachers make it through a school day without bathrooms? Daniel Gai, who runs the PESS program in South Sudan, had to deal with that problem.
We shared with all of you last year that heavy rains caused flooding in Bortown, where PESS runs its educational programs for girls. In Bortown, there is no public sewer system, just as there is no public water supply or utility company. For those of us used to living in a modern city, this is hard to conceive, but for people in South Sudan, it is a way of life. Pit latrines are a necessity, and every household – schools as well – must have them.
When heavy rains fell last May, the Sunlight Primary School was flooded. In fact, classrooms were flooded several times over a month. Not only did this cause havoc for the operation of the school, but it caused the school's latrines to collapse and become unusable. Only one latrine remained functional. School has continued to operate since then with 300 students plus teachers having access to only one latrine.
Several generous donors from the US pitched in to help – giving funds for new, better built, latrines at Sunlight School. After the rainy season was over, construction began and now the new latrines are in use. The new latrines have concrete walls underground, and a concrete floor, so similar floods in the future will not cause the same damage.
Sunlight Primary School is important to PESS because it supplies many of the high school students who join our program. It also provides teaching jobs for graduates of our program. In a young country with a fledgling economy, trying to find its legs, it is important to work with partners who help make the economy work. Sunlight School is such a partner.
PESS continues to support 53 girls in 9 different schools in Bortown, South Sudan, all of them eager to get a high school diploma and make a contribution to their community. PESS provides tuition for the students to go to private school since government schools do not operate on a regular basis. Students also participate in after-school tutoring and out-of-school leadership groups where they discuss topics of global concern and offer mutual support to group members.
Twenty of the students graduated at the end of 2018 and took their national exams in January. This will qualify them to go on to university or to get a job, maybe some of them at Sunlight Primary School – with its new latrines.
New students started a new year of high school in February, taking the place of the recent graduates. Each student says a huge thanks to all of you who, with your generous donations, help them succeed.