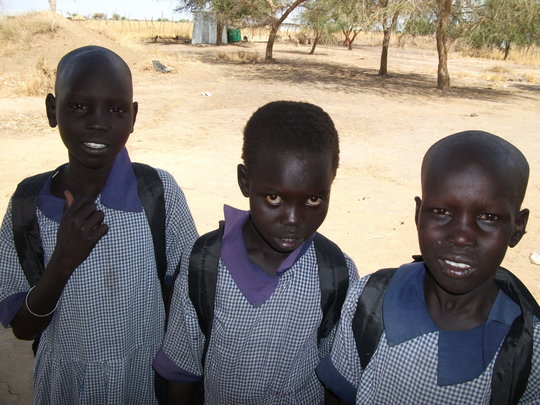 Carol Francis-Rinehart went to Southern Sudan this past Jan-March and worked with the Konbek community where the Ayak Anguei Girls' Primary School is and delivered over 300 book bags. The book bags were a project headed up by the women students of their Sister School The Women's College, University of Denver. The precious book bags were filled with letters of hope and much needed panties for the girls.
While distributing the book bags, girls soccer uniforms & balls, Carol praised the girls for their efforts to stay in school in a country where only 10% of girls, ages 7-14 go to school. She was able to meet and interview several of the girls who shared their hopes and dreams.
Grace Adeng Deng is the first to raise her hand during math lessons. Math is her favorite subject. The teachers at Ayak Anguei have noticed Grace's abilities and have high hopes for her. A few years ago, however, Grace wasn't even attending school. This was because there was no school for girls in her village or surrounding area. The village of Konbek now works in collaboration with Project Education Sudan (PES) to help build the all girls' school. Grace could not be a honor student if Ayak Anguei was not a boarding school. If she had to go home after school, she would be unable to tend to her studies due to having to fetch water, grind grain, and help tend to her siblings. The school has requested PES to please help them with funding to build two dormitories to allow the girls to stay on the school compound to continue their studies after school is dismissed. " If I am living in the school compound, I can get help with my studies from the teachers and my student friends. We needed a dormitory so we didn't have to sleep in mud & thatch dorms or on the floors of the classrooms at night afraid of the scorpions and snakes. We are so very happy PES has been able to raise the funds for one dormitory this year!"
PES would like to thank their many supporters who have been making donations on Global Giving, making it possible for the girls to get another much needed dormitory. This rainy season, the girls will be able to sleep in safety and in bunk beds.
We ca leec areetic (Thank you very much to you all) in Dinka language! Carol Francis-Rinehart Executive Director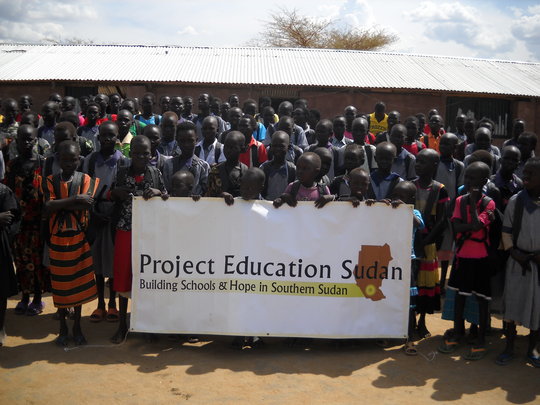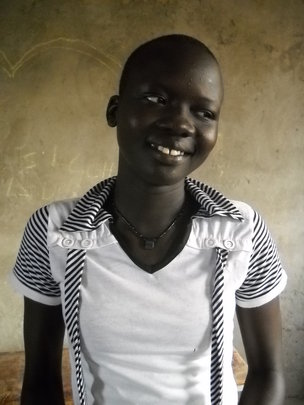 Links:
WARNING: Javascript is currently disabled or is not available in your browser. GlobalGiving makes extensive use of Javascript and will not function properly with Javascript disabled.
Please enable Javascript
and refresh this page.