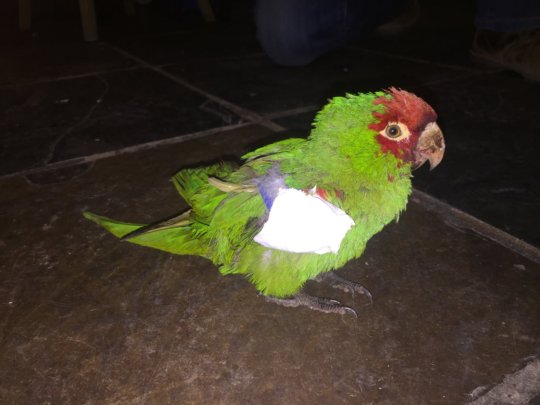 We have had an unfortunate start to 2016. We are always excited to take in our first rescue every year. We always want a successful resuce to start the new year off right. Our first resuce arrived on January 5th. We had a call of a parrot walking in the street and there was a pool of blood. He was in Lakeside, a city about 30 minutes east of downtown San Diego that has a large amazon parrot flock throughout the year. This poor guy was a lilac-crowned amazon and after a visit to our veterinarian, we found out that he had been shot with a pellet gun. The pellet had shattered his wing and was embedded in his leg. Due to the damage from his injuries, it was decided to have him humanely euthanized. We did have several parrots come in after this that we were able to rescue and will be released someday. However, we had no idea what was coming next starting on February 19th.
We received a call on February 19th of an injured lilac-crowned amazon. He was found in Ocean Beach, which is a beach community that is west of downtown San Diego and borders Point Loma to the south. This poor guy had two BB wounds but luckily no broken bones. He had a lot of soft tissue damage and his left leg appeared to be paralyzed. We knew he would have a long road to recovery but unfortunately he passed during the night from his injuries. Point Loma is a coastal community due west of downtown San Diego. It is the home territory for red-masked conures as well as a small flock of blue-crowned conures. On February 23rd, we picked up two red-masked conures at the same location in Point Loma. One was already dead and the other had a broken wing. When we receive calls of two parrots at one location, it has always been due to BB or pellet wounds. After x-rays were done, the dead parrot had a pellet lodged in his body and the other conure had a broken ulna due to a pellet. We were confident that the injured parrot would survive his injury but he started to go downhill the next day and passed from his injuries. February 26th we received another call from the same location in Point Loma of a dead parrot. Sure enough, there was a pellet found by x-ray. He was most likely shot the same day as the other parrots but was found three days later. So here we are with five dead parrots, it's still February and we usually receive an average of two parrots per year that have been shot. I will attach several files which go into great detail how we are working with local law enforcement to try and stop these shootings. The one good thing from all of this is the amount of community support we have received for these parrots. San Diego's parrots have called these communities home for over 50 years so there are a lot of people that have loved seeing them since they were kids. On March 3rd, we recevied another call of an injured red-masked conure a few blocks north of where the other conures were shot. He was taken to a local veterinarian and passed soon after. The necropsy showed that he had a chest wound from a pellet. There was so much outrage from the community that the story appeared on all of the local news broadcasts over several weeks. It was even the opening story on the six o'clock news on CBS.
We haven't caught any of the shooters but due to the media coverage (Facebook, newspaper and TV news) the shootings have stopped. This qualifies as cruelty to animals and the laws recently changed so that the penalty for cruelty can be a felony. If you are convicted as a misdemeanor you get up to one year in jail and a $20,000 fine for every count of cruelty. If you are convicted as a felony, the punishment can increase up to three years in prison and $20,000 fine per count. We also have the communities on the look out for any shooters so we feel we have made progress.
Now for some good news. In the middle of all of the shootings, we were able to release a small flock of red-masked conures into an existing flock of 100. This release occurred in La Mesa, which is about twenty minutes east of downtown San Diego and no where near any of the recent shootings. I attached a picture of these lucky guys and the release was uneventful, which is exactly what we want. The new releases flew around the large tree where the flock was roosting several times before landing in the tree and joining their new flock. Keep in mind that a lot of these conures were babies from last year so they have never been able to fly without a roof over their head. It's pretty neat to see. Sometimes we also get in an injured parrot that may have accidently hit a window, is dehydrated or has some temprorary injury that caused them to be found on the ground. We picked up a red-masked conure from Point Loma on March 12th. He showed up with no apparent injuries. A quick test flight at our facility proved that he probably just ran in to a window since he was found in a home owner's driveway. We gave him plenty of food, hydrated him and let him have a good nights sleep before we returned to the same driveway the following day. We could hear his flock in the distance and as soon as we opened the door to his carrier, off he went to tell his flock mates about the crazy night he had.
2016 is off to a quick start. We have taken in 16 parrots as of March 20th. This beats our record of last year, where we took in 6 parrots through April! We're hoping we have better news to report as the year goes on.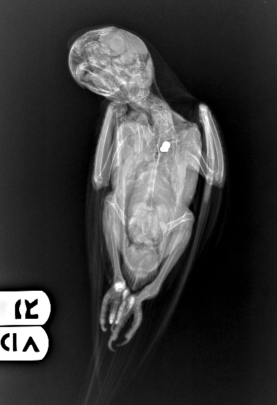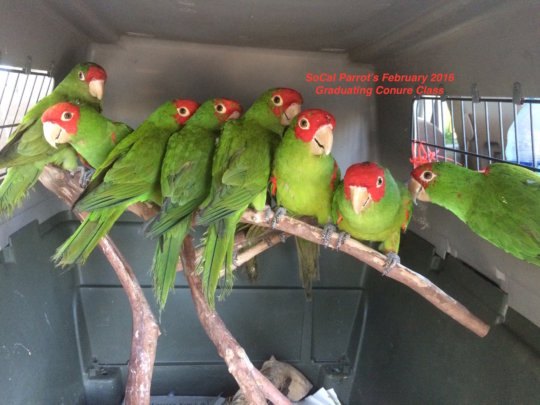 Links: