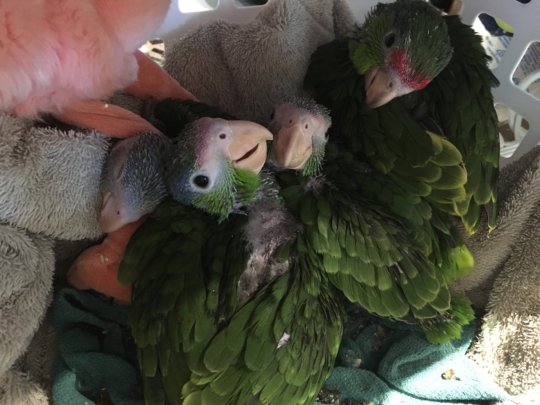 2016 has been a very busy year for SCP so far. I was trying to focus on one thing for this report but there was just too much to cover. I'll start with our most important story and that is our parrots.
To give you an idea of how busy we have been, in 2015 we took in a total of 73 parrots with 63 of those parrots coming in by the end of September. We are half way through September in 2016 and we have taken in 104 parrots! We are happy we can help however we can with parrots that need care but we always hope that these numbers will go down. Our outreach seems to have been very effective, many of our rescues come to us through our emergency phone line. Our relationships with other rescue organizations continue to grow as well, especially with Project Wildlife and the Pasadena Humane Society. All of these sources contributed to us receiving 37 parrots in the month of June alone. Imagine having at least one parrot arrive each day of the month. Each with there own story, being caught by a cat, tree trimming destroying a nest, broken wings, being shot, etc. Some need surgery, some need rest, some need 24 hour care. It can be exhausting and we don't do it alone. We have many dedicated volunteers that make all of this possible.
As usual, we have had the heartache of parrots not surviving their injuries but we have had some small victories. I've included pictures below. The first picture shows four of the many amazons we have seen this year. It is always easier for us when nestlings show up at the same time. They do so much better when there are other parrots similar in age that they can bond and grow up with so they can be part of a flock. We had three babies come in from the same nest. They are red-masked conures who are the victims of tree trimmers. Luckily, the tree trimmers saw the parrots before they were injured and turned them in to the local humane society. The littlest one didn't have his eyes open yet. They are doing great and growing quickly. The littlest one did have a couple of days where we weren't sure he would make it. He stopped processing his food and was very lethargic. He did pull through but is still developing slower than his nest mates. We also took in our first red-lored parrot. She came in with a broken wing but is recovering nicely. She has a very sweet personality, is wary of humans but has become buddies with our nanday and cockatoo.
Here at the SCP sanctuary, we have other animals besides our parrots. We like to have our own "farm" where our volunteers and visitors can be exposed to other animals. We have a koi/turtle pond as well as enclosures for chickens, ducks and goats. We are in the process of expanding the enclosures for the ducks, chickens and goats. The ducks have a larger enclosure that we just finished and the chickens have a new (very large) coop. In the nest couple of weeks we will finish combining the chicken and goat enclosures which will give both plenty of room to roam. Many years ago, we covered the top of our chicken and duck enclosures with nylon netting to keep raptors out. We have coopers, red-shoulder and red-tailed hawks here as well as great horned and barn owls. I believe a great horned owl made its way through a hole in the netting at night and killed all of our chickens and ducks. You'll see in the pictures that we now use metal mesh to make sure no predators can get in. We are also in the process of enlosing a covered 20'x20' area to create a new flight, we need as much space as we can get with htis many parrots.
Brooke, our founder, and Sarah, our animal care manager, recently made a road trip to Northern California to speak at a fundraiser for The Indonesian Parrot Project. Check out their amazing work here: https://www.facebook.com/IndonesianParrotProject/?hc_ref=PAGES_TIMELINE. They were also able to visit Native Songbird Care and Conservation https://www.facebook.com/NativeSongbirdCareConservation/?fref=ts and Aquarium of the Pacific https://www.facebook.com/AquariumofthePacific/?fref=ts.
If you happen to be in San Diego on October 9th, please come to our 4th Annual Picnic with the Parrots for our annual open house https://www.facebook.com/events/1583693721936368/.