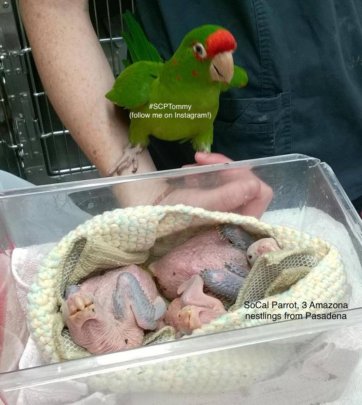 The babies have arrived! It happens every year but we were getting a little worried. In 2014 the first baby arrived on May 12th and in 2015 it was May 18th. We had heard from other wildlife organizations that the babies of other species had come in early this year. As May came and went we were trying to figure out what was going on since we knew that the local flock here in San Diego already had fledglings learning to fly. We also know that in Ocean Beach, the San Diego breeding grounds for Amazons, that the local neighborhoods keep an eye on the nesting locations to make sure they are not disturbed, such as by tree trimmers. Well, the first babies finally arrived on June 9th.
The first babies arrived in about as good a situation as could be expected. There were three babies, they were still pink with some pin feathers starting to appear on two of them and the smallest one had no feathers and its eyes had not opened yet. They came from the same nest, it is always better when you have multiple birds of the same age, it helps lessen the impact of their interaction with humans since we have to hand feed them. We always worry about the first baby "wilding up" if it doesn't have another parrot to sleep near and grow up with in the "nest" we provide them here at the sanctuary. A tree trimmer was the cause of these guys losing their nest but at least he took them down to the local Humane Society for rescue. These three are doing great and we will be posting videos of these three as they grow from all pink to fully feathered. The best place to keep up witht there progress is at our Facebook page: https://www.facebook.com/socalparrot
It appears that we are making up for waiting so long for the young parrots. After our three babies came in, we have taken in 11 fledgling Amazons in 7 days! We were lucky enough to be able to reunite one of these guys with its parents the following day. One day makes a huge difference in their ability to understand the concept of flying. Sometimes one extra day is all they need. So far everyone is healthy and growing, a welcomed sight after dealing with all of the parrot shootings. We also received a mitred conure in the middle of all the fledglings that is an adult that had a bad head strike. His bruised and chipped beak shows us how hard he hit something but his x-rays were negative and he eats like he's never seen food before. So here's to keeping everyone healthy this and getting them back into the wild with their flocks.
I also wanted to give you an update you from our last report. The good news is that we have not had any parrots shot in San Diego that we know of since April 3rd. The investigation to find the shooters is still being handled by the Department of Animal Services (DAS). I wish I could give you an update on their investigation but they will not tell us any details of their progress since it is an active investigation. All I can tell you is that there are currently no suspects even though we have passed on multiple leads reported to us by the neighbors of several of the possible shooters. We hope DAS has success at some point in their investigation.
The last parrot shooting that was reported to us was from East Los Angeles. One of our transport team volunteers drove up north to pick this parrot up from the man who saw it shot. This parrot unfortunately had a shattered wing with compound fractures. If this parrot were to survive, at the very least his wing would have to be amputated. We disucssed this case intensely before we decided that euthanization was the most humane decision in this particular case. There were tears shed having to make this decision for an animal that was living free a few days earlier. This is the hard part of our job. What makes it worse is what happened next when we told the man who called us about this parrot in the first place. This man watched as his neighbor shot the parrot but said nothing to the neighbor. He heard the parrot scream in pain and fall to the ground. He knew the shooter and still said nothing. He was able to get to the parrot immediately and call us to pick up and try and save its life. When we notified this man what was decided, he was as hurt by it as we were. But when he called back to call us every name in the book for our decision, it's really frustrating. He told us that he would have gladly cared for this parrot for the rest of its life in a cage. It's tough when the public doesn't understand that these are wild birds, not pets. They do not want human interaction, we are predators in their eyes. I can't imagine the life that bird would have suffered by having its wing removed and then put in a cage for the rest of its life. The man had no parrots of his own so this parrot would have no flock members to rely on for care and comfort. Who knows, maybe we were wrong in our decision, but all we can do is what we think is best for each individual.
If you have a chance, check out this very well done video on the harm that the illegal pet trade has on parrots. This video actually focuses on the Red-crowned Amazon, the most abundant wild parrot in Southern California and also the most endangered. The video can be seen at https://www.youtube.com/watch?v=LcJ_v9tjYaE. I have also attached a link below.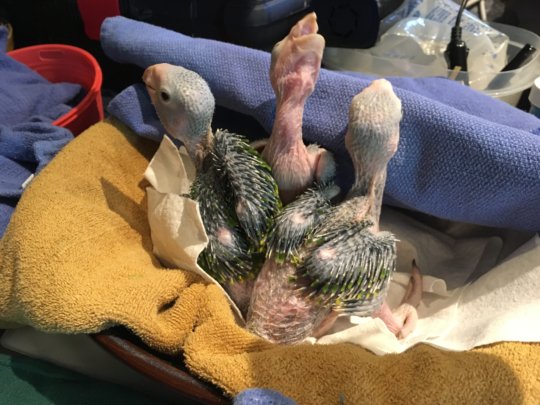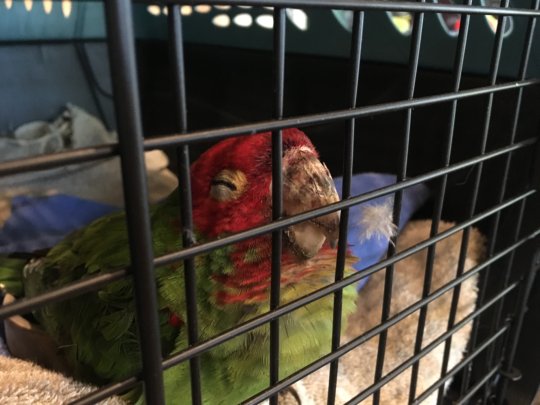 Links: