Aasraa Trust would like to extend its heartfelt gratitude to all its wonderful donors. Kind and generous people such as you make it possible for us to continue our work for the education and empowerment of slum and street children. Our goal is to give each of these children an education that they deserve, an education that empowers them. Because of your constant support and encouragement, we are able to bring more and more children under Aasraa's umbrella.
This month, we bring to you the story of Phool Kumari, one of the brightest stars of Aasraa Trust. This little girl is a power-house of energy, always up for a challenge. When we found her on the streets, 4 years back, she used to rag pick to support her family's income. Both her parents are illiterate and with 5 children to take care of, they never considered education as an option. With counseling and encouragement, Phool Kumari started attending the Street Smart program regularly.
After one year in the Street Smart program, Phool Kumari was mainstreamed into St. Agnes School in Class I. The following year, she was transferred to Sri Guru Ram Rai Public School in Class II. Phool Kumari has just been promoted to Class IV for the academic year 2017-18. She wants to become a doctor when she grows up and we are going to do all that we can to help her achieve this dream.
Phool Kumari is a classic example of a child who had all the odds stacked against her. Without an outside intervention, she would have continued to beg or rag pick, with no chance of breaking out of the poverty cycle. In India, there are thousands of girls like Phool Kumari who are smart, intelligent and have a fire in them - a fire to learn. All they need is an opportunity to dream, aspire and fly ! With your support, we at Aasraa are helping them do just that.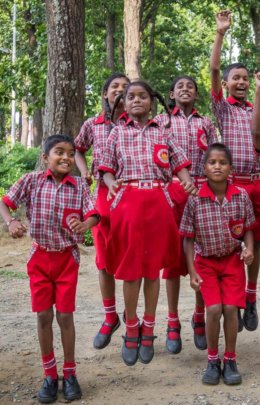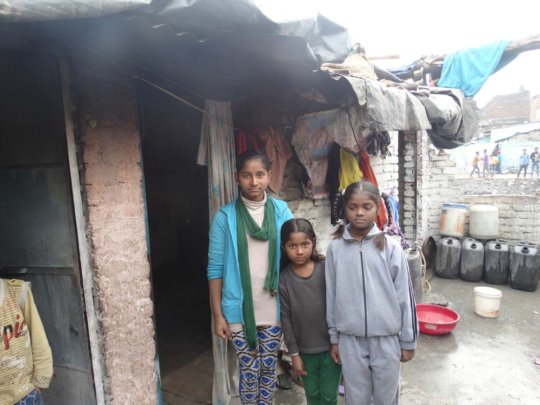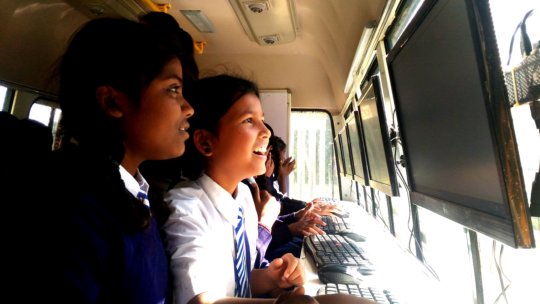 Aasraa's mission is to provide children an education that they deserve; one that empowers them. Our Wings program, providing homework and tutorial support to our mainstreamed children as well as children from government schools, is a perfect reflection of this idea.
Set on this mission to provide the best and latest for our children, we recently adapted the concept of a Mobile Computer Lab to our specific needs. Sponsored by the Hans Foundation; our Mobile Computer Lab (MCL) was launched on October 11th. A 26 seater bus has been redesigned to be a computer lab for 20 students, accommodating 2 students per terminal. Fitted with 10 computer terminals, power back up and Internet connectivity, this bus is the start of a revolution in Computer Education across Uttarakhand.
We are dedicated to provide high quality computer education to all children reached out through the MCL. Our MCL reaches 160 children per day, at various schools across Dehradun. Children develop the necessary IT skills and also get the opportunity to explore and read about different topics that fascinate them. Computer aided learning is a powerful tool for students and we firmly believe that our children from the streets and slums should have access to this.
Currently, Aasraa's Mobile Computer Lab is scheduled to conduct classes at five different schools. These are CNI Girls Inter College, Sneha Doon Academy, GIC Dobhalwala, Mangala Devi Inter College and Summer Valley After School program.
We extend our heatrfelt gratitude to all our donors and supporters for their constant encouragement !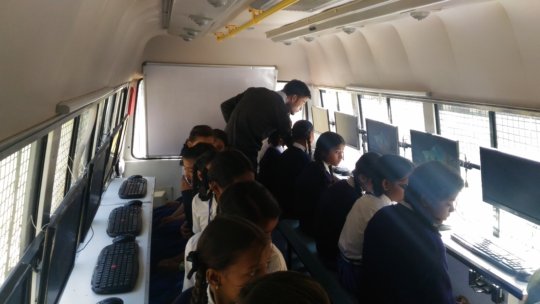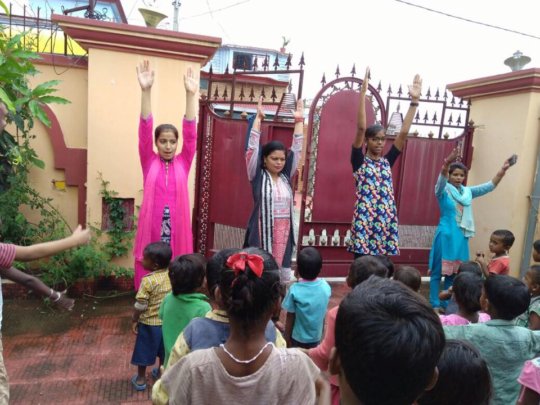 Aasraa's Mobile Learning Center at ISBT has been a tremendous success. On most days, we have more than 100 children flocking to the bus, excited to learn and play. So in order to effectively cater to the needs of all the children coming in, we decided to find a spacious location within the locality. Our new center is centrally located in Azad Colony and easily accessible from all the surrounding slum settlements.
Our new ISBT Center has 8 large rooms, which can easily accommodate more than 100 children and keep them safe from heat, rain and cold. So while the teachers have more space to teach the children, the e-learning continues on the Mobile Learning Center. Also, now our children have more space for playing games and for other activities.
We have also hired a dedicated teacher for the playgroup children. The center has a fully functional playgroup, complete with toys and learning aids. This is especially crucial for our work since the older children can now get their younger siblings to school instead of being stuck at home, minding them. Additionally, the tiny tots get early access to a much needed education.
Based on feedback received from the community, Aasraa has also started Vocational Training at the ISBT center. We have started with two trades for now; tailoring and computers. This program is targeted at the many young girls in the area who have passed the age for formal education. Apart from trade specific skills, we are also teaching them conversational English and soft skills with the aim of increasing their employability. We have hired specialized teachers to facilitate these trainings. The response received by the Vocational Training program has been overwhelming and 54 young girls from the Azad Colony area are already attending the trainings in different sessions. We are also encouraging them to start studying via the National Institute of Open Schooling.

This month, we are busy making sure all our children have warm clothes for the winter; buying sweaters, thermals and winter uniforms for them.
We want to thank all our donors for their constant support and encouragment towards our children and projects.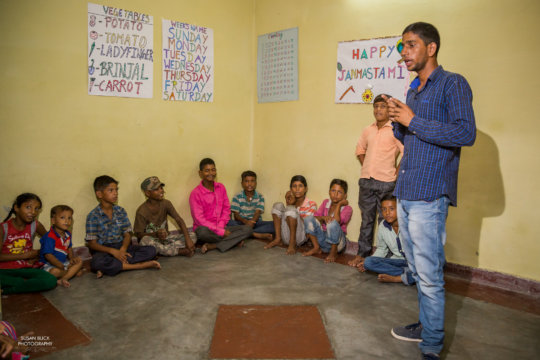 WARNING: Javascript is currently disabled or is not available in your browser. GlobalGiving makes extensive use of Javascript and will not function properly with Javascript disabled.
Please enable Javascript
and refresh this page.