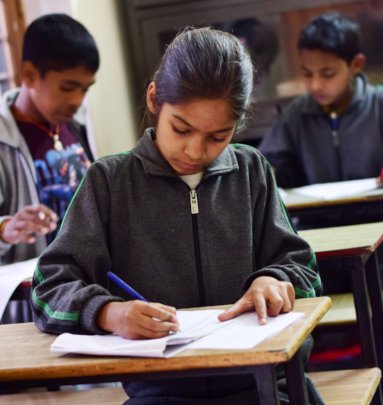 The 2017/18 academic year is coming to an end… On one hand, Aasraa's Street Smart children are gearing up to be mainstreamed into regular schools and on other hand, our mainstreamed students are preparing for their annual examination. Children who are studying under the National Institute of Open Schooling – Open Basic Education programme have appeared for their annual exams. The results shall be out by the month of June. There is lot of excitement along with a twinge of nervousness amongst all of us. Wish us luck. We are positive that our dedication and commitment will surely reap fruitful results for every child at Aasraa.
Thanks to our lovely donors and well wishers like you, we've been able to continue our beautiful journey of empowering lives of the most vulnerable children of our society. They not only have access to quality education now but have developed a sense of confidence and self reliance to achieve greater heights in life. Your generous support and encouragement have made all this possible!
In this report, we share with you a brief update on the progress of our three girls Preeti, Laiba and Sanjana. They are one of the most promising students at Shri Guru Ram Rai Public School, Bindal. After attending a year-long pre-mainstreaming program at Aasraa's Street Smart centre, they were enrolled on merit at SGRR Public School, one of the reputed schools in Dehradun. The after school tutorial classes under Aasraa's "Wings of Doon" program have helped them develop their concepts and perform better academically and analytically. It brings us immense pride to learn about their current progress and achievements.
Preeti is an exemplary student. In the last one year, she has blossomed from a confident to a more confident student. Her smile is contagious and can just melt one's heart. Despite her poor living conditions in the Bindal slum, her positivity and optimism are inspiring. Fortunately her parents understand the true worth of good education. Her fine motor skills have shown an upward graph. We love to imagine the nature of change Preeti will bring about in her family and surrounding once she completes her education. As a domino effect, she will certainly touch more lives.
Laiba, initially, faced a lot of hardship in the school. Her academic performance was at all time low in the first four months at SGRR Public School. Our teachers dedicated special attention to her. After continuous efforts, her academic graph raised and today, she is amongst the brightest students in her class. In fact, she is one of those students who teach her peers. She has shown remarkable improvement in her academics. A few months back, she participated in the athletic event and dance program at her school. She is very proud of the fact that she goes to school. She says that people in her neighbourhood have started to give her more respect ever since she has been enrolled at an English medium school. She is also fluent in Urdu and reads the Quran every evening.
Sanjana has improved a lot in the last one year. She religiously does her homework and class work. Her handwriting and reading ability have improved in both English and Hindi languages. She can now comprehend and understand better. She is obedient and a quick learner. She is also very friendly with her classmates. Recently, she secured third position in the school sports event. Besides studies, she enjoys dancing and singing.
Thank you all for your love and care!