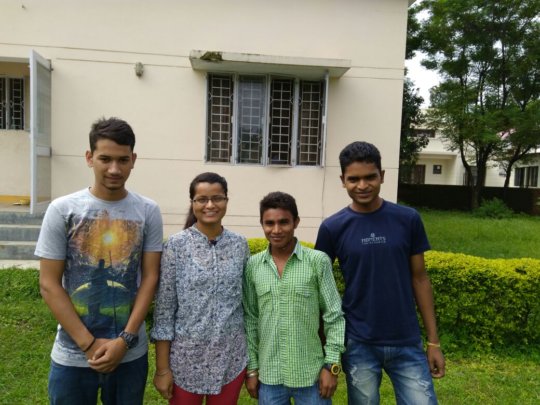 Wings of Doon - An After School Support Program
It gives us great pride and joy when we see graduates from our Wings program literally take wings! In this update, we would like to share with you the new journey that three of our recent graduates from the Wings program have embarked upon.
Karishma
Karishma graduated from standard 12 this year. She studied at Government Girls Inter College, Rajpur road, Dehradun. A regular student at Aasraa's Wings program, Karishma was extremely excited to go to college. She was also eager to start working and be independent. She has always loved cooking, and used to help out in the hostel, sometimes experimenting with different desserts. Thus, when Vana Resorts, one of the leading hospitality brands in the country offered to hire one of Aasraa children as an intern, she was our immediate choice.
Karishma went through a rigorous interview process and was finally selected as an intern at the Vana Resort's kitchen. The internship is for a period of six months during which she is training under some of the best chefs in the country. This internship has also given her some financial independence as she is also being paid a stipend. Karishma will also be pursuing her graduation through distance learning.
Karishma aspires to be a chef and we are sure that this internship is her first step towards realizing this dream.
Raghuveer
Raghuveer is one of our young adults who have been with the Aasraa trust since 2009. Over the years we have seen him grow from a charming young boy to a young man full of determination. He is currently studying at DBS College, Dehradun pursuing a Bachelor of Arts degree . Alongside his regular studies, he has undertaken courses such as English Speaking & Computer Basics. He is also preparing for the Railway Service examinations for the coming year.
However, it is quite inspiring to see him back in Aasraa time & again teaching young children computers in his spare time. We are proud of him and even more so seeing his desire to help other youth who are on the same ambitious path as he is.
Mukesh
The eldest of seven children, Mukesh is the son of a daily wage labourer from Dakiarna, Chakrata. Seeing the bright spark in the young boy, the Pradhan of his village referred Mukesh to Mr. Uniyal, principal of Purva Madhyamik Vidyalaya (PMV), one of the schools that Aasraa supports. Mukesh joined the boarding school at PMV in 2009. Mukesh was one of the first students of Aasraa's Wings program.
Since then, Mukesh has been a regular and consistently performing student. He graduated from standard 12th this year and aspires to join the army. He will be joining an Army Camp starting this October to prepare for this.
Additionally, he has also completed a three months course in Computers and Conversational English. While waiting for the army camp to start, Mukesh has been doing an internship at the Aasraa Trust office. He is putting his computer skills to good use, doing data entry and helping maintain student records.