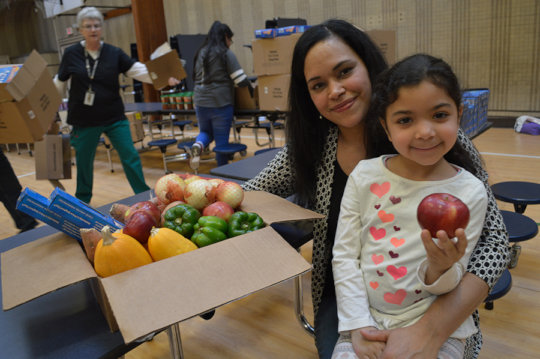 Roughly 1 in 10 residents of Lynn is food insecure. This means that 9,800 people living there cannot be sure day to day where their next meal is coming from. In a city where 20 percent of the population lives in poverty, The Greater Boston Food Bank (GBFB) works tirelessly with community partners to provide nutritious food for all those in need.
In the last 12 months, GBFB distributed 1.2 million pounds of food in the city of Lynn, or the equivalent of 980,000 healthy meals. GBFB works with over a dozen partners at 20 different sites in Lynn to reach many different types of populations. In addition to food pantries, meal programs and emergency shelters, GBFB distributes healthy food at a community college, community health center, senior center and an elementary school in Lynn.
Having a pantry impacts our school community directly, by attacking one of the most difficult academic barriers to learning, which is hunger," said Laura Sanchez, social worker at the Connery School in Lynn, the site of one of GBFB's nine School-based Pantries. "We are lucky to have this service." The School-based Pantry in Lynn has been helping schoolchildren and their families for 5 years. Nearly 100 families take home 40 pounds of nutritious food every month. This year, for the first time ever, the pantry will distribute food during
the summer, helping families through the toughest time of the year.
Irma and her husband, Roberto, live paycheck to paycheck putting food on the table for their three small children in Lynn. Roberto has worked the same job as a hotel maintenance manager for 37 years. While he has steady employment, the family struggles to keep up with their rising rent and the high cost of living in Eastern Massachusetts. Irma, 38, said the family sometimes runs out of food at the end of the month as expenses add up and their food budget bottoms out. "Between paying bills, rent and everything else, we're
just trying to survive," she said.
Since 2014, The Greater Boston Food Bank has partnered with the Connery Elementary School in Lynn to run a monthly School-based Pantry for families in need. Irma's three children—Casey, 13; Roberto, 12; and Daisy,
5—all either attended or currently attend the Connery School. Her two older children even volunteered at the School-based Pantry, helping carry boxes and bags of food, when they were members of the student council.
"This is a really rewarding opportunity for us," Irma said. "It always helps out at the end of the month when we run out of food to fill our pantry." Irma and other families at the school take home about 40 pounds of nutritious
food every month from the free, farmers market-style distribution. "We're able to get a lot of vegetables from the pantry. Daisy loves the broccoli," Irma said. "We also get milk, eggs, pasta, potatoes… we use everything
we bring home."

The food usually lasts the family about two weeks, according to Irma. "[The School-based Pantry] helps financially because we're running around trying to make ends meet," she said. "And this helps us feed our kids."
Links: