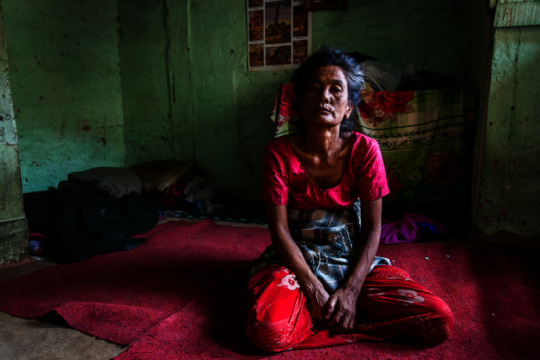 In the Nepali context one of the first aspects of poverty is the lack of purchasing power. Indeed this lack of financial resources is readily expressed to us each time by our clients and their families.Almost 90% of Chhahar's clients earn on average Rs.5,500per month ($50) and most of the families own their house. Despite this, families continue to struggle every month to make means meet. In other words, 'poverty' for these families is closer to the idea of deprivation in the sense that they cannot make means meet, rather than absolute poverty.
Sita at the Mental Hospital Lagankhel(MHL) on the day of her discharge: Some of her family were there to pick her up. Sita's mother had stayed with her daughter in the hospital for the whole period of her treatment, as MHL requires a carer in order to admit someone into the hospital. Sita's sister was in charge of picking up her sister and mother from the hospital and she mentioned to us that having to take care of her sister was very expensive.
Shyam's father, who is now too old to work, says he cannot afford his son's medication and therefore is obliged to reduce his dosage.
These financial difficulties were also among the first factors repetately mentioned by the psychiatrist with respect to hindrances to the continuation of medication and/or formal treatment.In sum, this 'lack of financial resources' aspect of poverty is widely acknowledged, although in fact, there are ways around paying the full price of the prescribed medication.
At MHL, clients who cannot afford treatment can, in theory, get help from a 'poor people fund'. In order to be eligible for this help they are required to present their citizenship, a letter from their municipality and proof of diagnosis from the doctor. In practice however, a psychiatrist revealed to us that the people assessing for the 'poor people fund'usually 'rely on their gut feeling and do not investigate the financial situation of the family'. These flaws in the system makes the life of those in need very difficult.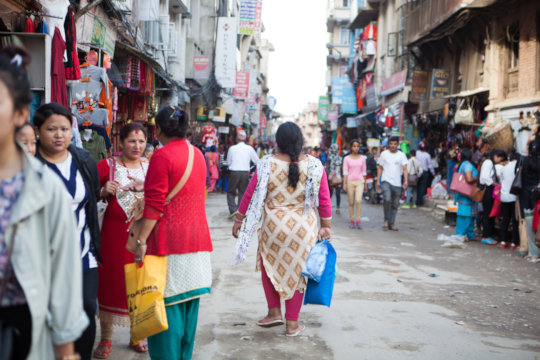 The existence of a strong family support system is the strongest determining factor of an individual's wellbeing. Social networks can be viewed as social capital. A key method of Chhahari's person centred approach is that it does not coerce family members of clients to participate in the treatment process.
Ram who was mostly absent regarding his son's treatment, Chhahari did not coerce him into attending counselling sessions. However, he became more supportive over time. In this way, our experience found that community health care interventions effectively created networks of social support. By creating a community – "…a cohesive social entity…able to transcend the individual, rather than a site of care delivery (Bemme and D'souza, 2014:866)"
Chhahari acts as a network of support that does not subscribe to the larger societal stigma existing around mental illness in Nepal.
One social worker from Chhahari describes social support as: "…with…clients … support…is simply being there for them… listening to them and being a friend for them, because that is what they don't have, that interaction with other people…they feel so grateful when you go to their house because they don't get that…"
Family support is the major determinant of a person's improvement. Initially building a relationship with a client's family and convincing them that one, their support is vital and two, recovery is indeed possible is the greatest challenge.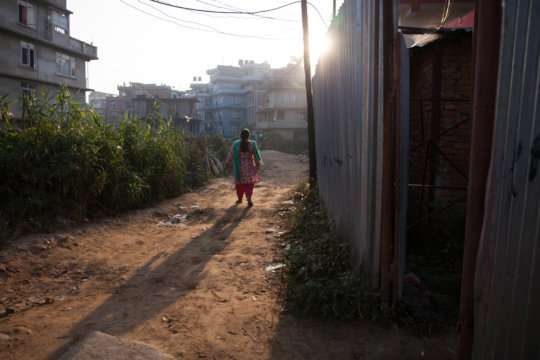 Gita is a 20-year-old female, diagnosed with bi-polar disorder. In the past, as a result of her mental distress, she wandered the streets. This is where CNMH came into contact with her. She is currently taking medication for an anxiety disorder, which CNMH funds, reducing the economic stress of the family. Gita lives with her mother who suffers from diagnosed depression, her younger brother who excels academically and her father who works in a small shop. Gita's mother works intermittently as a domestic worker – her depression causes employment insecurity and Gita's father is the breadwinner of the family. However, his income also fluctuates and he earns only approximately 2-3 dollars a day.
Gita has a passion for education, but unfortunately this passion is a source of self-stigmatization, as she cannot perform at par with her peers. Based on her experience of exclusion at school and in society, Gita does not perceive herself as valued member of the community. Based on a 'person centered approach' CNMH has focused on assisting Gita with her studies and her English language skills in the past which has visibly increased her confidence and provided a means of empowerment that has helped her overcome her self-stigma. In this way, mental health social care models can benefit from the inclusion of social methods that work to negate harmful effects of stigma at an individual level. Moreover, Gita's expression of her desire to attend CNMH daily reflects the positive effect that community social support networks facilitated by mental health organizations can have on mentally ill/distressed people who are vulnerable to social exclusion on account of stigma.
Given the major connections between poverty and mental health, this case study of Chhahari presents an important example of the positive affects of social inclusion, which is a major theme in development discourse. Given that development policy is predominantly focused on poverty alleviation, this provides an opportunity for Global Mental Health and development alike to feature the voices of the the poor, who Global Mental Health seeks to support.
WARNING: Javascript is currently disabled or is not available in your browser. GlobalGiving makes extensive use of Javascript and will not function properly with Javascript disabled.
Please enable Javascript
and refresh this page.