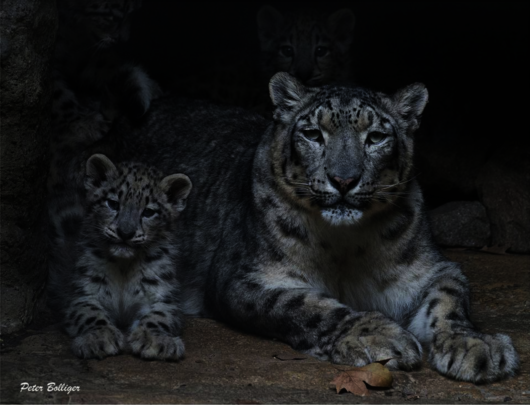 From Kyrgyzstan to Chauvet Cave—A Journey Leading to the Story of Us All
Snow Leopard Conservation
Global Big Cat Alliance
May 2018 Project Update
Dear Donor,
Thank you for all that you do to help us bring Western and Indigenous knowledge systems together for the conservation of these beloved big cats, important not only in their own right, but because our very survival depends on theirs! We are immensely grateful to you, to the ancestors, and to the spirit of the big cats.
From a chance encounter with the pelt of a Snow Leopard in a tourist yurt in Kyrgyzstan to Chauvet Cave of Southern France a decade later… we retrace the steps of our ancestors through a video WISN produced this past quarter as part of our efforts to raise awareness of and bring critical resources to the Snow Leopard conservation efforts of our partners.
In 2008, Dr. Apela Colorado, Oneida and Gaul Elder and founder of the Worldwide Indigenous Science Network (WISN), had a profound chance encounter in a yurt in Kyrgyzstan. Entering this yurt, she saw the skin of an animal she did not recognize hanging on the wall. She immediately dropped to her knees and wept in front of what she later learned was the pelt of a sacred Snow Leopard.
Over the next decade, her research brought her in contact with numerous Kyrgyz Elders who shared some of the oral wisdom, which holds that the Snow Leopard clan people (the original European tribes) migrated West with Snow Leopards from Central Asia tens of thousands of years ago. It is the reason, they believe, that there are so few snow leopards remaining in Kyrgyzstan today.
While it is known in Western science that many European tribes descend from these Central Asian tribes, there was nothing in Western science to corroborate the movement of Snow Leopards as told by the Kyrgyz Elders. Until now.
We reported last year about a separate research trip to the Caves of Southern France during which a WISN team discovered that there was a painting of a Snow Leopard and that the remains of a (approximately) 35,000 year-old Snow Leopard were discovered in this cave, a cave which had been sealed off for at least 26,000 years. While remarkable in and of itself, the link to Kyrgz oral tradition was one that few people would be able to make. Dr. Colorado was able to make this connection. And in Fall 2017, we brought a Kyrgyz Elder to these caves to make an offering and prayer for the survival of his sacred totem animal (see Fall 2017 report), the endangered Snow Leopard.
During this journey, we met with Jean Clottes, Ph.D., one of the foremost French experts on the Caves of Southern France. At the conclusion of this meeting, Zhaparkul Ata put his hand on Dr. Clottes heart saying,
"We are brothers. You are science. I am shaman, In the future, we will work together."
May it be so.
We share the just released video with you, dear donors, with much heartfelt gratitude for all you have done to support our ongoing conservation efforts.
Links: