Dear Friends, family and supporters,
We are pleased to share with you more news about the development of the Sprouting Seeds Learning Centre. After several months of preparation, Whispering Seed finally made yet another big move from Pyin Oo Lwin in Upper Myanmar to live and base in the small former British hillstation town of Kalaw.

Located in the pine forests and cool weather of Southern Shan State, Kalaw is a small town serving as the starting point for hikes into local ethnic hilltribe villages, famous caves in nearby Pindaya and several hike routes starting in Kalaw and ending in Inle Lake. It's not only a wonderful location, but also quite an strategic one, for it is a place that has experimented a considerable increase in its tourist visits, which means that local people are starting to see entrepreneurship possibilities and others, which turn our project into an incredible opportunity. We've been working also in research regarding the needs and priorities so we can lunch our Learning Center as a response to the real needs of local people working together with our partner organizations.
We arrived in Kalaw around the first of November and began to get settled in our new home, which will also serve as the base for Phase I of the Centre. The house is in a privileged location for our purposes, just at the edge of downtown Kalaw, a 5 minute walk from bus station and central market.
We have only been here about a month now, but we are slowly getting the home settled and we are making plans for Phase 1 to start soon. We have learned that working in Myanmar is challenging at many levels. However, with commitment and support, we are excited about the progress we have made and plans we are creating to move forward. The programs we plan to offer through the center will contribute to the current development of Myanmar.
Short course in Business Training & Designing the Space
Two of the youth who are starting the project are currently receiving a short Business Training course from our friend Natalia, our friend from Chile who has come to volunteer with us. Together they are developing the business plan for Phase I and Phase II of the project. She is working with a few of the youth here to better build their capacity for management of the centre.
Cooking and Baking Training in Italy
While working with Brighten Foundation we had the pleasure of meeting Gabriella, our friend from Italy who has presented us an opportunity to broaden the classes and teachings we can impart in the center, with a cooking and baking training opportunity in Italy. This is also a great opportunity for our young members to grow and learn a much more diverse base of international skills training, which we will then spread through Sprouting Seeds.
Implementation for the center
As we are starting the first phase of the bakery, we are continuing to gather the basic information so we can launch the project soon. Our local partners have been an incredible support in this area, helping us getting us all the necessary information and supplies, including a bread oven which we are in the process of securing a donation from Mandalay.
We look forward to your on-going support through our final campaign of this year and as we start into the new year of 2015.
We are graterful for all of your support!!!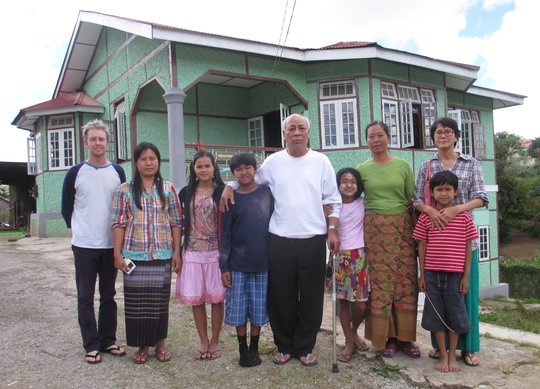 Links: