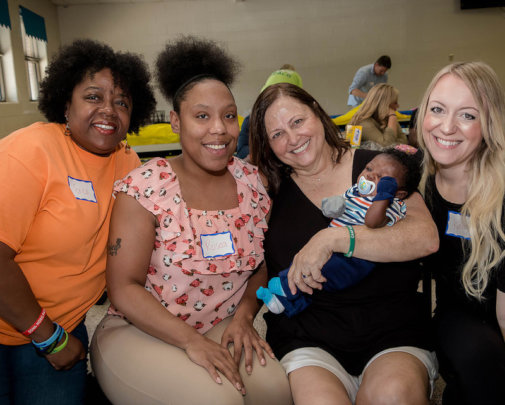 As of today, we are just SIXTY DAYS away from Summer Camp 2019!
SO WHAT'S NEW AT CAMP HORIZON?
APPLY TO BE A CAMP COUNSELOR: The best week of the year is just around the corner! Join us July 6-12 for summer camp at Camp Twin Lakes' facility in Rutledge, GA. Email Amy Orr at amy.orr@camphorizon.net for an application today!
CHECK OUT OUR WEBSITE: Go over to www.camphorizon.net today and check out our brand new look!
SAY HELLO TO OUR NEW DIRECTOR: After jumping into Foster the Funk, Cammie Cook is staying on full-time as Camp Horizon's new director! Email her at cammie.cook@camphorizon.net to say hello!
PADDLE GEORGIA: Paddle Georgia 2019 is June 14th-22nd. This seven day journey on the Withlacoochee and Suwannee Rivers is an experience our campers won't forget! If you are interested in volunteering, please contact Taylor at taylor.hunt@camphorizon.net.
ROSEA'S SUCCESS STORY
Our Camp Horizon family is often rewarded by seeing our campers grow up to make positive decisions and lead happy, healthy lives. Witnessing campers graduate high school, join the military, enroll in college or trade school, or start their career are achievements that are celebrated and offer a moment of reflection on that individual
camper's journey. Rosea is one of Camp Horizon's success stories, joining our family over ten years ago during summer camp. A cautious 8-year-old during her first summer, Rosea's counselor, Tara, provided the empathy and encouragement that allowed her to come out of her shell. Initial feelings of discomfort and distrust of her new surroundings slowly eroded throughout the week, earned through a sense of security formed through constant supervision, fun programming, and a safe environment where basic needs were never in question. Over time, Rosea did not feel embarrassed about being in foster care due to Camp Horizon's accepting environment, eventually realizing that many other campers (and even some volunteers) shared similar experiences involving case workers, moving to different homes, or not being with their parents.
As Rosea grew older, she benefitted from Camp Horizon's Leadership Development Program for teenagers. Designed to give the campers more independence, LDP exists within a group setting for discussion and goal-making within similar-aged peer groups. With plenty of adult supervision, the participants of LDP worked together to discover options to difficult teen situations and enthusiastically plan for their futures. At LDP, the campers were able to develop new strategies for navigating life, all with the unfailing support of the Camp Horizon family. Unlike 90% of GA teens foster care, (GA Dept. of Education 2011) Rosea graduated from high school right on time.
Now a mother to her son Braylon, Rosea is already implementing Camp Horizon's "3 R's" of Respect, Responsibility, and Resilience in her role as a parent. It is with great personal pride that Rosea declares, "Braylon will never experience Camp Horizon programming as a camper... but because I am his mother, I will make certain that he benefits from all the love I got from my camp family."