For Youlou Arts Foundation March 4th is an auspicious day.
It is the day of the public launch of the newly established Youlou Art Centre.
Youlou Arts Foundation has been dreaming of this day for many years and finally the day is looming!
Donors you have given us donations for the annual visual art program which we have been doing for the past 16 years. You have stuck with us showing your support and love!
Now we need your support more than ever as we embark on our new project of establishing an Art Centre and Gallery. Having an Art Centre and Gallery is a huge undertaking for the organization. Many items are needed to outfit the new centre such as furniture and a bit of landscaping. We realize it is truly a unique and special opportunity for St. Vincent and the Grenadines and we are seizing the opportunity!
It means Youlou Arts Foundation is providing a space dedicated to the visual arts. We can now offer more art workshops to the public and most of all Youlou Arts Foundation will have a home, the people will know where to find us.
Hopefully the centre will help promote economic self sufficiency to the local artists, and artisans. All good things for the community.
Donors we are asking you to support us. We need all the help we can get to ensure a successful Youlou Art Centre.
Links:
Attachments:
Youlou Arts Foundation is taking a giant step forward. Currently we are in the midst of preparing a space to establish an Art Centre and Gallery. We are in a heightened state of excitement! The organization has been dreaming and fund raising towards and yes praying for this to become a reality and finally it has come to be!
Youlou Arts Founation was given the opportunity to rent a space in a very desirable spot, in the heart of the tourist district. We have been wanting to do this for several years and feel
very fortunate to be renting in such a beautiful spot.
Youlou Arts Foundation believes the time is right for a dedicated Art Centre and Gallery to serve St. Vincent and the Grenadines. Currently, there is a lack of appropriate venues where local visual artists can showcase their work or where visiting exhibitions can be displayed. In addition there are no educational institutions specializing in offering art classes to children, and adults.
Youlou Arts Foundation plans to continue to giving visual arts classes to children, which we have been doing for the past 16 years, and now to adults as well. The space will also be used as an art gallery where local and visiting artists can display their work. There are plans to also have an art shop and cafe on the premises.
At the moment we are busy painting and putting things in place. We are planning to publicly launch the Art Center and Gallery on Saturday, March 4th 2017. It will be the first time St. Vincent and the Grenadines (SVG) will have a space dedicated to the visual arts.
I am truly excited about having an Art Centre for beautiful SVG. I can say in all honesty, we have worked very hard to get this far!
Donors I know you have given me your full support through the years and now I am reaching out to you, asking for your financial support to ensure this project does get a good start. We are asking you to give us your full support for this project.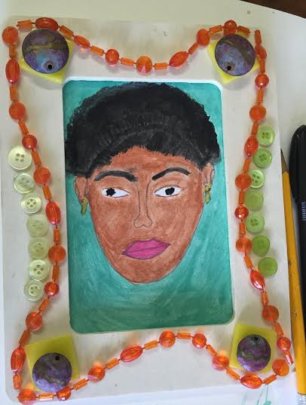 August 3rd. was a memorable day for the
"Growing Young SVG Artists" 2016 visual arts program. It was the final day of the 3 week program organized by Youlou Arts Foundation. All the children, from all 4 locations, gathered at the Kingstown, Methodist Church Hall to have an exhibition of their work.
Great was the excitement!
Each location was given an eight foot long table on which to display the children's work. On display were hand made accordion books and some with stick bindings. These books were made to record illustrated interviews, which was a was a warm up exercise to get the children thinking about themselves. Also on display were decorated charts of various body measurements. There were self portraits on display some placed in small wooden frames, decorated with beautiful mini tiles, hand made paper beads, beach pebbles and beads. Beautiful hand made jewelry were on every table. The self portraits were a "hit". These were made during the last week of the program, the culmination of weeks of thinking "It's All About Me", this year's theme. They were encouraged to put a great deal of thought and effort into this final project.
During the exhibition each location was given 15 minutes to sing an empowering song and recite poems they had written. The Spring Village location was the first to perform, they stormed the stage and sang " We Are The World" It was amazing to see and hear! It brought joy to my soul!
Donors because of your financial support we were able to present a successful visual arts program to the children of St. Vincent and the Grenadines. We acknowledge the necessity and importance of your financial support. It has allowed us the opportunity to continue and grow this important program. We thank you for your donations.
WARNING: Javascript is currently disabled or is not available in your browser. GlobalGiving makes extensive use of Javascript and will not function properly with Javascript disabled.
Please enable Javascript
and refresh this page.