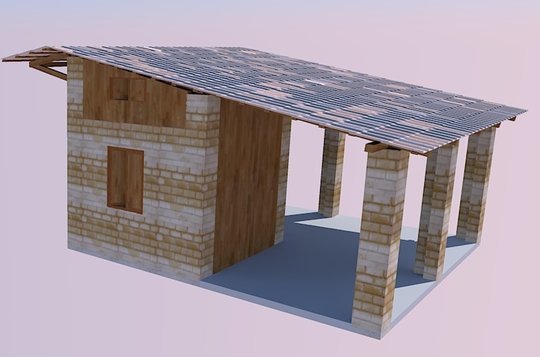 Even as SosteNica shifts away from the use of non-natural, unsustainable building materials towards something more attractive, native and sustainable, we stay true to the needs and desires of campesino families. Our unfolding house design reflects that commitment. The base building material (see photo) is a pressed earth block made from site soil. The roofing material currently under study is a thermal tile made from local volcanic rock, ground to a powder and pressed into roofing tiles.
The building layout begins with a simple secure single bedroom with an expandable footprint. The loft on the second floor provides lockable storage for seed and tools. Campesino families live outdoors. Their indoor space is used primarily for sleeping and for storage.
Notice the outside walls, which are constructed using earth blocks. The two interior walls are secure but removable wooden partitions. As the family grows, the house expands, one room at a time, filling in the footprint by increasing the living space 25% with each new set of two walls. Windows with wooden shutters provide air and light when appropriate, but are safe and dark when family members are sleeping or away from home.
Eco-technologies, including an open-air kitchen and composting toilet, grey water treatment and rain-water caption will be designed into the basic system. Many thanks to the generous donors who have guaranteed that this model house will soon become a reality.