Our Oasis school team is still hard at work teaching our beneficiaries innovative techniques and practices to better serve the land of Ait Baamrane.
This program reached its fourth Module on Insect Hotels and Bird-Feeder, which contained a number of interesting activities where the students learned new skills.
During the first session on Insect Hotels the students went on a journey to the "tiny" world of invertebrates and other odd creatures. As a result they started to investigate all their cool features, the role they play in the ecosystem, and to understand where they live, in order to replicate a micro-climate for the insect hotel. The beneficiaries also went on an outdoor walk for insect-hunting and built a wooden insect hotel -- a winter lodging for our Oasis School garden- for crawling and flying bugs. The hotel consisted of different suites catered to each little bug's preferred lodging taste. Most hotels are constructed with a strong protective frame of wooden boards or pallets and are filled with a variety of bug-friendly materials like straw, cork, sticks, or pinecones. Our students contributed to assembling the hotel boxes and parts, and watched a movie to follow-up; "Guerre et paix dans le potager - Partie II," a humorous and original narrative documentary about the extraordinary adventures of the creatures of the Aublanc-Fiche family garden.
During the Bird-Feeder session, the students made a bird feeder and had the opportunity to discuss bird habitats and their needs. This session was more of an observational session. Students learned the importance of feeding birds especially in the winter as they lack food and intend to migrate.
The sessions during this module were not only informative but also fun and interesting. They helped connect our beneficiaries with the nature surrounding them, learn new things about its components and question their role in the life cycle.
The Oasis School team as well as the beneficiaries are always grateful for this precious learning opportunity funded by the U.S department and AIEF Grant.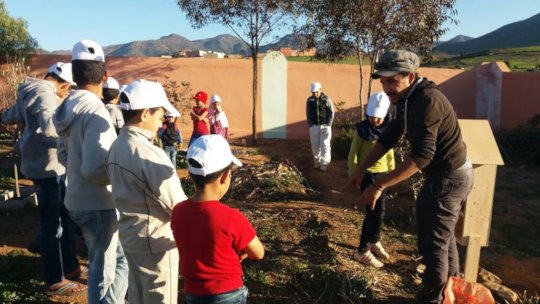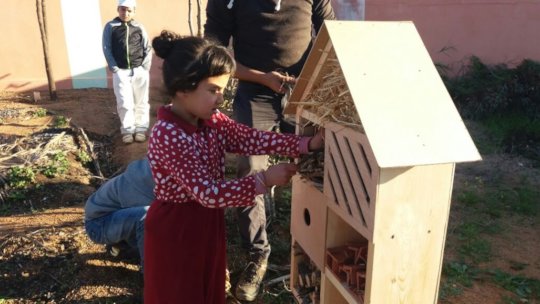 Links:
This week we held our first academic sessions at Madrasat Tawahat, The Oasis School. Our participants started their permaculture education by learning about types of soil and soil life. More importantly, they learned how to support each other while working in a team. Our staff has been working hard traveling back and forth from Sidi Ifni and Agadir to prepare and plan for the Oasis School: buying gardening tools, testing soil, planting seeds, preparing curriculum and more. We're very excited about the rest of the program and you should check back on our Facebook for more frequent updates.
Dar Si Hmad is also very proud of the Alumni Engagement Innovation Fund Grant that was won through the U.S. Department of State to host this innovative program.
Links: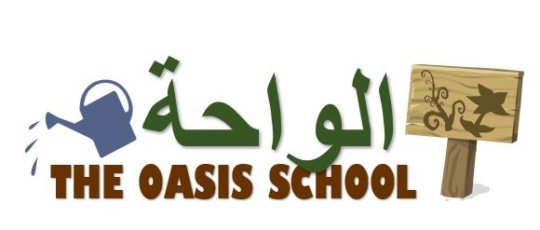 This year, for its 5th edition, the water school is undergoing an exciting revamp. After an in-depth evaluation by Dar Si Hmad, its board, and in response to feedback from former students, we've determined ways we can improve and build upon the work we've done over the last four years with the Water School. This year, Dar Si Hmad will be launching the "Oasis School," a permaculture focused updated of the Water School.
Dar Si Hmad is in a very unique position to take advantage of its overwhelming success with the fog project. After the installation of our new, state-of the art fog nets this past January, over twice as much fog-water is being collected, much more than the beneficiaries consume. Therefore, Dar Si Hmad has begun a very exciting new program in Ait Baamrane where we work, focusing on sustainable permaculture practices, and aiming to eventually develop income-generating gardens within the communities.
As we did with the Water School, we believe that teaching youth is an important way to spread knowledge within a community. Younger generations can help their families learn and will carry those tools into the future. Therefore, the beginning seeds of the permaculture project will start with our Oasis School, teaching local students invaluable agricultural techniques, and the importance of taking care of the land around them.
Links:
WARNING: Javascript is currently disabled or is not available in your browser. GlobalGiving makes extensive use of Javascript and will not function properly with Javascript disabled.
Please enable Javascript
and refresh this page.