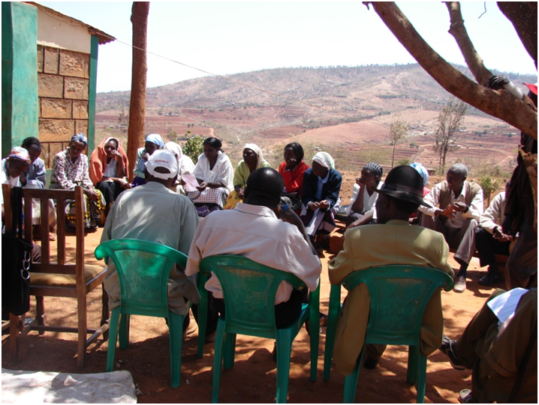 Joseph the Mawe Community Based Organisation (CBO) Secretary reported that since the initiation of the partnership between PEN and the Mutulani community, the community has had achieved milestones which are self initiated.
He reported that four sand dams were constructed along Kyanduu River and these have enabled the Mutulani Community to harvest more water compared to other previous rainy seasons. He reported that various water harvesting techniques they have acquired has improved their farm production. Other than the water Tank donated to Mutulani primary school, the community approached their leaders and the school has three additional water Tanks and two more placed within Mutulani secondary school. He reported that as a result the two institutions are assured of safe drinking water throughout the year.
Joesph also highlighted that the Mutulani community led by Mawe CBO has been holding accountability meetings with the management team of both the Mutulani primary and secondary to ensure they manage the water resources well.
He also reported that the CBO has initiated a program to educate the community on harvesting and storage of their agricultural produce which is expected to take them for the next one year due to the good rains received in the area
The Mutulani community through Mawe CBO has increased water harvesting activities to tap rain water for domestic use and initiate commercial activities through irrigation. The community has also constructed a third sand dam at the upper part of Kyanduu earth dam acting as a check from silting their main water source.
The community has been working with the Makueni County government to initiate more water harvesting structures to tap water from the expected rains. The county government has been constructing water pans and encouraging people at the individual level to adopt water harvesting techniques that will ensure the October-January rainfall will be well tapped and utilized. The Kaiti Constituency Development Fund has also supported both Mutulani primary and Mutulani secondary with 10,000 litre water tanks for roof catchment water harvesting to increase the amount of water in the schools.
Mrs. Muia a member of Mawe CBO attributed all these achievements to the PEN initiated project and Global giving where she reported that, "we appreciated the funds received through Global giving platform and PENs' facilitation of the process because our area has been faced with recurrent water crisis year after year, however after receiving training as a group, we have been enlightened on establishment of partnerships to deal with our common problems. Now Mutulani community looks different and we have initiated many water harvesting projects through partnerships since PEN was introduced to us."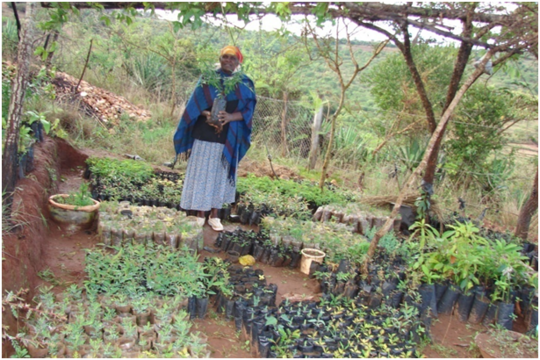 Catherine a resident of Mutulani and a beneficiary of the Mutulani Primary School water Tank through her son in class 5 appreciated Global giving through Poverty Eradication Network for the support extended to their community through the school and Kyanduu Earth Dam which is their main water source in the area. "We have been supported to construct an earth dam which has been controlling silt in our earth dam. We have been able to construct two sand dams through our own initiatives and now can carry out conservation activities like tree planting which in return will be bringing income to our households"
WARNING: Javascript is currently disabled or is not available in your browser. GlobalGiving makes extensive use of Javascript and will not function properly with Javascript disabled.
Please enable Javascript
and refresh this page.