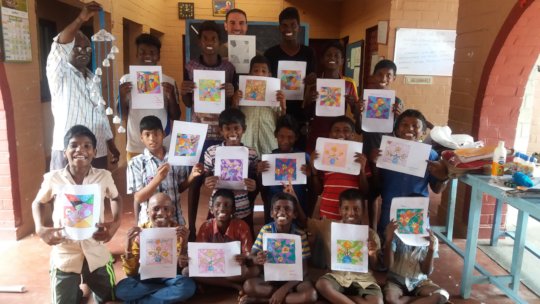 A child's curiosity with anything and everything around is exquisite. Opportunities must be provided to identify a child's inclination, which is why educational institutions provide training in varied literary and creative fields. However, such opportunities are not available to millions of underprivileged children.
Almost all children have a liking for arts, and with good training it could serve as an essential lifeskill for the interested minds. Besides, the importance of arts and crafts for cerebral growth is irrefutable. Bhumi's volunteers of 'Artoons' (a module, under Ignite, for visual arts and creative crafts) are on a journey to provide less-fortunate children an opportunity to taste this joy of working with body, mind and soul.
'Artoons' conducted painting workshops at several shelter homes in Chennai recently. Children were encouraged to dive and dwell in the shimmering ocean of imagination. Each workshop focussed on introducing children to a different facet of drawing, painting and creative crafts. Techniques for shading, adding drama with dimension, incorporating colours, and drawing eye catching patterns were taught to the children.
The workshops, aimed to benefit children, covered Doodle, Manga, Zentangle Mandala and Cubism. For instance, Zentangle, which involves a lot of intricate designs, helps children inculcate patience and develop a feeling of relaxed focus, more like meditation. Creative craft sessions were also conducted at few homes. Children converted pieces of paper into beautiful artefacts. The sessions included kirigami (paper art – a variation of origami), making windchimes, caterpillar, quilling, envelop making, bookmarks and greeting cards. In all these sessions, most of the children did well as trained.
"It was the first time I taught drawing to kids. I did not know what Cubism was a month ago, and spent half a day to practise this art. The interest in me (to teach kids and in the subject itself) and the support from my co-volunteer Sudha (Project Coordinator - Artoons) drove me to make this happen" says a volunteer, Ms. Gayathri.
Our volunteers experienced warm fuzzies from some feedback on the session: "The children who attended the sessions found it rather engrossing, some of them practicing drawing sketches of animals as they were specially interested in the session on Animation … Participating in such workshops inculcates love for drawing and painting and we expect some of our girls to pursue these interests and become good artists in future" says Mrs. Rajini Devi K, Joint Secretary – Kalaiselvi Karunalaya Social Welfare Society.
A total of ten workshops were conducted over the past three months (from Aug 2017) and more is being planned for the weekends to come. Over 500 children have benefitted from these workshops. The goal is for all children to get the exposure, and to provide a life skill for those who wish to pursue a career in the field of creative arts. Moreover, these workshops add a memorable moment to their childhood, just like the memories we carry from our school days.
"This is the first time I am learning to draw. I am very happy and excited. In our first session, we were encouraged to draw anything we could imagine. Then we were taught to draw camel, tortoise and much more. I would keep drawing if I get the chance.", Dhinakar*, a primary class student, shares his thoughts with a broad smile.
"… A volunteer approached me and said she could help me develop skill in drawing. I did not believe it in the beginning. But after the sessions, I am now confident and delighted that I have a new skill ... This drawing skill will also help me in my diploma as I am planning to take up Mechanical or Automobile engineering" says Vetrimaran*, a class 12 student from Seva* Home.
*Names of children have been changed.