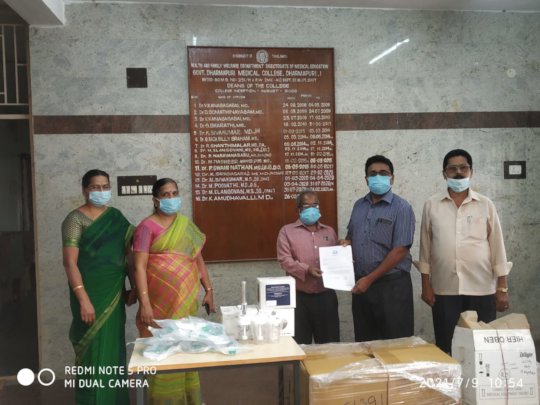 The Need:
India is still amidst the second wave of COVID and is preparing itself for the impending third wave. As of July 2021, with the second-highest number of COVID-19 cases globally and the third-highest deaths, India is seeing about 50,000 cases being added every day. There is still a huge need for health infrastructure and oxygen supplies for people being treated and more so to avert another health crisis if and when the third wave arrives.
Bhumi's COVID-19 Relief Support and Impact:
Bhumi's COVID Relief Support is aimed at providing financial aid, scholarships, grocery support, spreading awareness about the effects of vaccination, and supporting medical institutions with the required infrastructure and medical equipment to help them tackle the current situation thereby also making them equipped for the future.
(1) Medical Equipment: Our COVID-19 relief work continues and as of June 2021, we have enabled support of over USD 2.5 Million that has reached over 420 hospitals across India.The Support rendered as of 29th June to the Hospitals via Equipment includes Oxygen Plants (Quantity – 1), Oxygen concentrators (Quantity – 2,048), Oxygen Flowmeters (Quantity – 1,300), Hospital Equipment such as Monitors & Digital X-Ray Machines (Quantity – 120), Ventilators (Quantity – 9), Supplies like NRB Masks/Oxygen masks (Quantity – 10,725) and other Miscellaneous Equipment (Quantity – 328,068). Bhumi is also working with volunteers in establishing permanent oxygen infrastructure. In districts far from the metros, this will not only be used in the third wave but also in the long run for any respiratory/lung disease like Asthma, Pneumonia, Tuberculosis (TB), etc. Low-Income communities are also being supported with masks and oximeters for better management of the pandemic at home.
(2) Direct Financial Aid to Daily Wagers: With the second wave devastating lives, people have been once again told to stay indoors, and for our daily-wage earners, this is a doomsday scenario all over again, as it means they are now facing the prospect of no income for even longer. Their challenges are diverse and big, from struggling to meet basic needs including food to access medication during this crisis. In this need of the hour, we are supporting them with cash transfers to meet their daily expenses. As of June 30, we received 205 unique referrals out of which 105 were verified by volunteers and 13 beneficiaries are currently being supported through direct financial transfers.
(3) Grocery Support at Shelter Homes: The children at shelter homes are facing the brunt of this lockdown more than any of us. Mainly dependent on donations, these homes are still struggling to provide basic three meals to their children during this pandemic. Hence, as of June 30, we have provided groceries such as rice, grains, pulses, vegetables, oil, and medicines/toiletries to 5,125 Children across 92 shelter homes across Aurangabad, Bengaluru, Chennai, Delhi, Jaipur, Kolkata, Pune, and Trichy. Our strong team of volunteers call and assess the needs of these homes periodically and ensure that the requirement is fulfilled.
(4) Scholarships: Covid has hit incomes. Parents are unable to pay fees. Already, there were six million children out of school. This number threatens to go up due to economic insecurity in their families due to COVID-19, causing many children to leave their studies. UNESCO" estimates that 32 Crore students in India are affected due to COVID-19 school closures. Bhumi is striving to sponsor school and college education for as many children from underprivileged backgrounds as possible by providing them with scholarships. As of June 30, we have identified such beneficiaries (children of single parents, domestic labor, first-generation learners or have lost a parent to COVID-19) through 1,089 unique referrals from our volunteers and other stakeholders, out of which 402 children are being verified and 63 beneficiaries are shortlisted to be supported with scholarships (covering annual fees) and monitored for academic excellence. This project is on-going and we will keep supporting the education of children through scholarships.
(5) Vaccination Awareness Drive: Vaccination Awareness Drive started by Bhumi aims to pool in "vaccination awareness volunteer-champions" to spread the importance and effects of getting vaccinated to their community. Thus far, 1,646 volunteers have been oriented and 631 champions have completed volunteering by spreading the awareness in their respective communities. Through this, we have reached 2,540 beneficiaries who successfully got awareness about the vaccination.
"I extend my sincere thanks with gratitude for your kind gesture of donating consumables such as High Concentration Mask (Non-Rebreathing Mask), Wall Mounted Oxygen flow meter with din adaptor, N95 Mask, Simple 02 Mask for COVID - 19 to Government Dharmapuri Medical College Hospital to the benefit of needy and poor patients. We look forward to your continuous philanthropic activities for many long years to come to the needy poor people who are treated in this hospital."
- The Dean, Government Dharmapuri Medical College Hospital, Dharmapuri
Conclusion
The impact of the second wave on the lives of people in our country is far more lethal and intense than that in the first wave. Organizations, NGOs, and the public are now needed to move together, be part of the solution and lead change as India faces one of the worst pandemics ever.
We, at Bhumi, are committed to spearheading initiatives to enable socially conscious citizens and organizations in leading transformational, sustainable impact during these times.