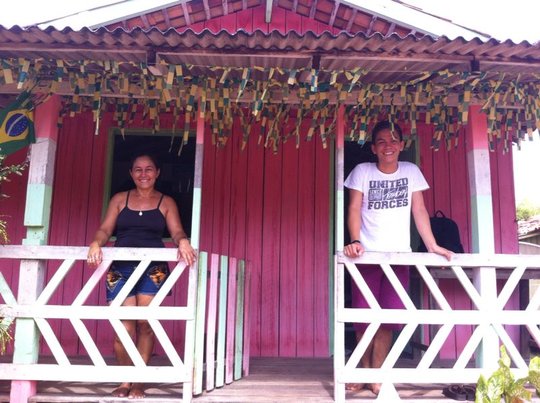 Dear supporter,
Promoting the human right to education is not simply about physically providing books, building schools or employing teachers, it is about social innovation. Although those are very important and essential measures, Vaga Lume takes the next step towards full Education: empowering people. For 12 years, it has motivated children to search for knowledge and political autonomy while valuing traditional cultures. As a result, they become adults like André, whose story we are sharing with you today.
From last July 15th to 22nd, the Vaga Lume team from São Paulo went on a monitoring expedition to Soure, at the Para state. There we met André, an 18-year-old literature student at the University of Pará, Brazil. He has grown up in a small community called Cajuuna, at the rural area of Soure. In 2006, he met Vaga Lume's work when visiting another community of Soure, Pesqueiro, and, according to him, he felt so amazed he wished there was one at his own community. His dream came true one year later, when his parents and their neighbours asked for a library and Vaga Lume donated a collection of brand new books to the Cajuuna community.
Ever since, André has been involved with Vaga Lume's work. As a child, he attended reading activities and borrowed books. As a teenager, he was trained as a reading mediator and started carrying out the activities himself. When he was 16, he assumed a leadership role and became responsible for the library of Cajuuna, so far taking place at the local school.
Having decided to study literature, after he finished high school André was selected by the University of Pará. Although he then moved to the urban area and could no longer be responsible for the library of Cajuuna, he still wanted to be a volunteer, so he joined the local team of volunteers, in charge of monitoring the volunteers of the community and communicating with the Vaga Lume team from São Paulo. Therefore, on our last monitoring expedition, André joined us to visit all the communities and, when we were in Cajuuna, he motivated his friends to raise money to build a new room for the library, because the school is in no condition to have it anymore.
We also had a meeting with the municipality secretary of Education, Jocelma, who is very proud of him: "André is very good at writing. We know these libraries make a difference. We can perceive it through the evaluation indexes of the municipality". According to him, Vaga Lume has inspired him to go to university. Being used to reading a lot, he became prepared for the selection process and he could choose his career.
André is an example of how young people can be empowered by reading. Today, we maintain over 150 libraries because we believe there are several Andrés in the Amazon about to be touched by the magic of books.
Thank you for supporting Vaga Lume!
Other stories and news are available at http://www.vagalume.org.br/home.
If you have any doubts or comments, do drop us a line!
Best wishes,
Vaga Lume Team