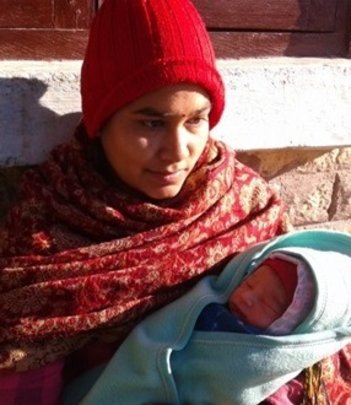 Outreach works!
Judging by patient numbers, our plan to increase outreach efforts into the remote villages of the Rajbash region is bearing fruit. Patient numbers have seen a steep increase during the last quarter. Injuries from falling lead the list of presenting issues with 15% of cases, followed closely by respiratory and cardiovascular ailments. Four babies were safely delivered in the hospital by our midwife. Two additional women about to give birth were transported to Dulikhel and Kathmandu Hospitals, one for intensive care, and the other for a C-section. All in all our ambulance made 37 trips during the last quarter to transport patients for more specialized care to Kathmandu hospitals.
A two-day Health Camp was conducted at the Kharpani VDC in the Ramechhap district. This location lies high in the mountains, about a 6 hour walk from the Rajbash Hospital. The area has been very isolated until recently a new earthen road track was built, good enough for our four wheel drive ambulance to reach the village in the dry season. 194 villagers, many of them school children and old people, patiently stood in long lines waiting to be seen by our staff. Presenting issues ranged from hypertension and respiratory complaints to gastritis and arthritis. Many were the expressions of gratitude to our medical staff for having undertaken the long journey to this area, and requests were submitted to have regular health camps there as road conditions allow. As we learned today, another Health Camp has been held in the same location since then to care for those who did not have a chance to be seen by a doctor or nurse during our first Camp.
How much our services are needed and appreciated in this remote region of very poor subsistence farming families is illustrated by some of the patient comments I will share with you below:
A 97 yr. old male who sustained cuts and bruises from a fall. Alone with his wife, they have no income and live from the food they grow in their garden.: "After I had fallen from stairs and got cut injury over whole lower limbs, and there is no ambulance to my house, and I did not have even a penny to pay for transport, I sent my grandson to ask the hospital staff to come to my home. I am thankful that they have come here and treated me, and even now they come to regularly change my dressings. I even can't explain how much I am thankful to the hospital, god bless them, to help poor people and old age people."
A father who brought his 10 year old son for treatment: "I was so worried. My son was semiconscious due to diarrhea. I carried him on my shoulder and walked by foot about four hours to the hospital. Now my son is getting well. I am very thankful to DCWC hospital for making my son well. May god bless this hospital family and I still hope to get regular service from this hospital."
A 40 yr. old female with a deep laceration: "I am feeling quite good now. I am grateful to the god and thank you for all your help. I hope all the persons should come here and take the treatment here instead of doing it at the home like me. I had fallen from the top of the hill and got a deep cut on my forehead. I became semiconscious and people took me to this hospital. They removed a piece of glass from the wound. Now my bleeding has stopped and I started healing. This local hospital has helped me even though I am poor and can not pay money."
It's these responses from our patients that spur our medical team to find ever more effective ways to reach and treat patients in need day in, day out.
And to guarantee uninterrupted service delivery in the future, we are so excited to finally proceed with the installation of a Solar Electricity System in our hospital. No more treatments by candlelight, problems with oxygen supply for our patients or x-ray malfunctions. They will be a thing of the past. The installation of our new solar panels will begin within the next two weeks.
We just learned, that the Kavre district, a large area within which the Rajbash hospital is located, has seen an increase in water and food borne illnesses that have actually claimed fatalities. This increase has prompted the Nepali government to organize a workshop at the hospital on the topic of communicable and non-communicable diseases. It was facilitated by Mr. Surath from the District Health Office in the presence of Dr. Uddhav Lama and Mr. Min Gautam, our health educator. The focus included different types of diseases, their causes and their effects in rural communities, the relationship between non-communicable diseases and nutrition, and the communication and coordination with health service providers. The 60 plus mandated attendants were women volunteer health workers, staff of various government health posts, teachers, traditional healers and many Dalit and indigenous people. We are heartened by the response of the District Health Office to this crisis and are pleased that our hospital was able to host this educational workshop. We are hopeful that this will lead to more cooperation and some form of partnership with the government in serving this rural population of Nepal.
In closing I want to extend a heartfelt thank you to all of you who make our continued delivery of health/medical services in the mountains of Nepal possible. Your donations are literally saving lives in one of the poorest regions of the world.