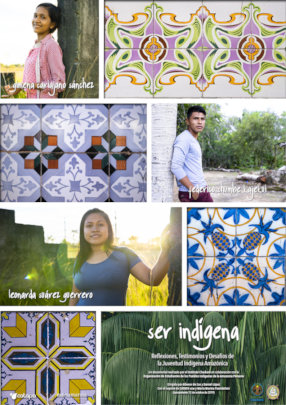 Showing the reality of young indigenous students.
Dear Friends and Supporters,
Last month, we finally released the audiovisual project "Ser Indígena" (Being Indigenous), which consists of a documentary and a photographic exhibition. The project is the result of a long work with the students themselves, with the aim to show their reality, dreams, and challenges, and to reflect on interculturality and what it means to be indigenous in the context of a more and more globalized community.
In this documentary, we get to know Jimena from the indigenous Achuar people, an Environmental Engineering student in Iquitos, who dreams of cleaning up the pollution that almost 5 decades of oil activity have left in her territory. We also get acquainted with Federico, a Language and Literature student from the Awajún people, who aspires to improve education in his community. Finally, we accompany Leonarda to her native Tikuna community on the Amazon. Leonarda is a Nursing student who hopes to contribute to the health of her people by combining traditional practices and modern medicine.
During the 50-minute journey, the viewer endorses the struggles, dreams and aspirations of these young indigenous students and their peoples, raising awareness about the importance of indigenous youth accessing higher education in order to choose their own destiny and become a fundamental part of this multicultural society.
Close to one hundred people attended the premiere in Iquitos on the 12th of October, the date coinciding with the International Day of Cultural Diversity (or Resistance Day, as some indigenous groups call the Day Columbus first arrived to the Americas). We also plan to project the documentary in educational institutions and other public spaces in the city to create broader awareness around the reality of indigenous students in Iquitos.
At the same time, we opened a photo exhibition in a popular café in Iquitos, portraying pictures taken during the production of this documentary. The exhibition has been visited by hundreds of local Iquiteños and tourists alike.
For the students, it has been a very important and enriching experience. They learned how to plan and organize an audiovisual production, and wrote their own script. Furthermore, they improved their communication skills and were proud to show and see themselves reflecting on their own identity. We plan to do more of this in the near future.
More support to fulfill their dreams...
Besides this successful audiovisual experience, we continue supporting the Organization of Indigenous Peoples Students from the Peruvian Amazon (OEPIAP) organizing training courses, receiving and guiding new students upon their arrival to the city and throughout their university matriculation process. Oepiap elected a new student leadership in July, who will carry on the work of the prior board, continuing the negotiations with the regional government in order to fulfill their biggest dream, to have access to a piece of land and build their own student residency.
Once again, we thank you for everything you continue to do to support indigenous youth in the Peruvian Amazon.
With profound gratitude,
The Indigenous Students of OEPIAP and The Chaikuni Institute Team