Dear friends,
Welcome to our first GlobalGiving report! We love being able to share with you - our donors - the impact your generous hearts is having in the field. Reports like this give us an opportunity to share with you stories of girls like Rotha.
As one among the first beneficiary girls of our Girls Education Initiative, Rotha has a truly inspiring story and is an example of one of the many girls whose lives are being impacted through your support.
Our Education Scholarship Program was established in 2013 with the aim of identifying girls from our partner schools who are at high risk of being deprived an education due to poverty.
When we first met Rotha, she was clearly at risk of having to drop out from school. She was 13 years old and studying in grade 7 and the eldest sister of her three younger siblings. Rotha's father was a motorbike taxi driver and her mother was mostly a busy housewife and mother of the 4 children. Their income was a meagre $5.00 per day.
Just imagine having to feed 4 children and 2 adults with this amount of income. The family rented an old, 4m2 wooden house covered with zinc walls and roof for $30 a month, without a separate room or a proper toilet, and, when it rained the water leaked from the roof and flooded the house. Rotha missed classes frequently and couldn't attend any extra classes (which is normal in Cambodia) because she was responsible for looking after her little siblings and the family struggled to pay for the associated costs for schooling.
But we believe she can change her world, and we stepped in…
Rotha was a hardworking and diligent young girl who often struggled to go to school due to her family's challenges However, no matter how hard it was Rotha continued to believe that only education could change her and her family's lives.
Since receiving our scholarship, Rotha now had enough study materials (books, uniforms, shoes, bag and books/pens and bicycle) which had always been a big challenge for her and her family. Our social worker regularly worked with her to encourage her study and she was invited to join various self-development and life skills workshops. Rotha became part of the AusCam family, making many new friends and feeling empowered and excited about her future. Rotha was also matched with her own sponsor. Through this sponsorship, Rotha receives the extra encouragement and knowledge that someone else truly cares about her future.
We also believe, for our mission to educate girls to be successful and sustainable, we cannot ignore the economic situations of the families of our girls. By walking along side our families and supporting them through various opportunities to increase their livelihood, this in turn not only improves living conditions but also reduces the risk of their daughter dropping out of school. We use creative means and partnerships with other local NGO's to support families who need this assistance. For Rotha's family, we worked with her dad to identify his skills and abilities and were able to refer him to one of our partners to participate in their Tuk Tuk (Motor Bike Taxi) Project.
Rotha's father was accepted in to their program and he was given a brand new tuk tuk, including some small business mentoring and ongoing follow up support. Now he has the ability to increase his income through operating a new taxi business which has greater earning capacity than just a motor bike taxi service. The family were very excited and the father committed to working hard to support his family.
And the positive changes started…
Rotha's father started his new business and before long, his income increased daily by more than triple to $15-$20 per day. As well, AusCam began a pilot 'Rice Project', supporting families with a monthly rice allocation and Rotha and her family were one of the first to also receive this extra support.
So how is Rotha and her family today?
3 years later and Rotha is now studying in grade 10 in high school and she has recently turned 16 and is now the eldest of 5 children. They recently welcomed a new little baby boy into their family. The family has just moved to live in a new rental room. Although still the same size as the old one, but this home is made of concrete with a solid roof and with a good toilet inside. The new house is also near Rotha's school.
Rotha attends our Life skills and personal development workshops, meets her case manager (mnetor) regularly and her study results have improved from 'average' to 'good', she is able to attend extra tuition classes and importantly she goes to school regularly.
Recently, Rotha shared her feelings with our Program Director - "Now I am so much happier than before; my house is nearby my school, my family income is better and I can now go to school regularly. Especially, my parents give me enough money to spend on having extra classes, and I sometimes can save some money to buy toys or clothes for my younger brother".
Rotha isn't sure what she will be doing in the future, but at the moment her goal is to graduate from grade 12 at school and we will be continuing to support her to realise her dreams.
Thank you for allowing us to be your hands in the field and deliver programs that are making an impact in the lives of so many adolescent girls.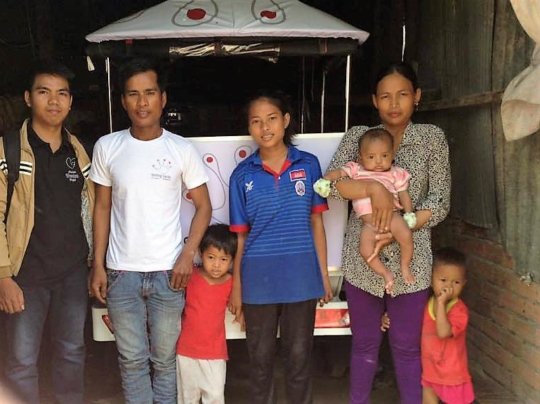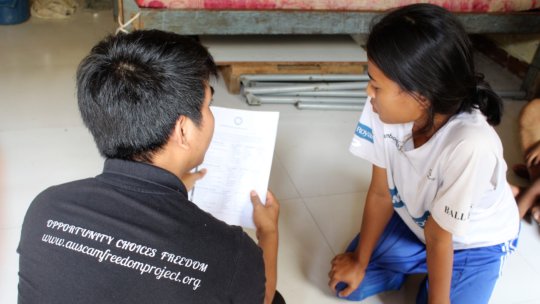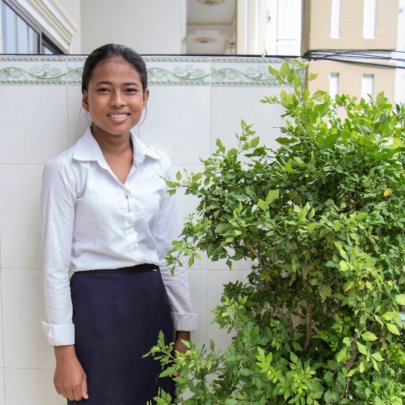 Links: