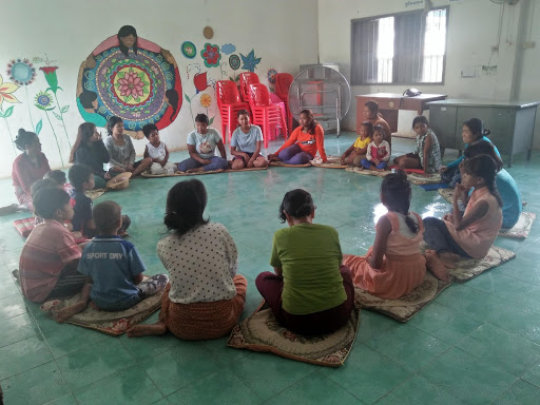 The goal of this program is to provide a safe-shelter, counseling, and supportive services to victims of domestic violence, rape, trafficking, other forms of sexual abuse and exploitation. Since December 2018, the Cambodian Women's Crisis Center has served a total of 69 survivors and 32 relatives. This program continues to be successful in the counseling aspect, but also the reintegration process which serves as a pivotal point in a survivor's life. Through the different counseling disciplines used at the Cambodian Women's Crisis Center, this program works to shed the sense of shame and guilt that is often associated with abuse and exploitation. Below is a story of Kimly*, a survivor of labor exploitation and sexual abuse.
Kimly's mother passed away when she was young and her father later married. Her changing family dynamics forced her to live with her grandmother who was very poor. After sometime, her grandmother could not afford to feed her, so she told Kimly to work to support herself. She worked very hard as laborer. Laborer jobs are often unregulated and can be a dangerous place for young women. Kimly was sexually assaulted several times at the workplace. Unfortunately, she didn't report it.
Kimly's grandmother was no longer able to look after her so she gave her to a neighboring family. Her neighbors were also poor and there she still had to work as laborer. After some time, she decided to migrate to work in Cambodia-Thailand in Poipet where she worked for 20 months as domestic helper without receiving any wage. In addition, her Cambodian house owner also confiscated her belongings. Kimly decided to flee and went to report her case at Migrant Reception Center (MAC) where she met and reported her case to an anti-human trafficking police officer. She was then referred to CWCC to stay at the shelter in early November 2018 awaiting for her case to be solved.
At the shelter, she first felt fearful and unsure of her new environment. She was depressed and experienced difficulty connecting with others. The counselor started spending time with her in efforts to build trust and confidence. They encouraged self-reflection and interaction with the other clients. Eventually Kimly felt more comfortable and was able to develop supportive friendships with the other clients through group counseling and participating in shelter activities. She has experienced great improvement at the shelter.
Currently, Kimly is still residing in the shelter waiting for her case to close. She has good overall health and and has been attending hairdressing and beauty salon courses outside the shelter sponsored by Lotus Outreach. The CWCC staff will continue to assist and follow up her case.
Thank you for believing in this program's mission. Your generosity is changing lives.
Kimly* is a name given by the writer. Her real name is hidden to protect her privacy in accordance to child protection policy of CWCC.